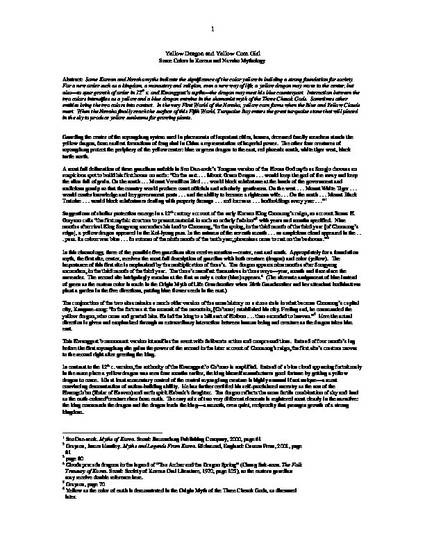 Article
Yellow Dragon and Yellow Corn Girl: Some Colors in Korean and Navaho Mythology
Society of Korean Oral Literature
Document Type
Conference Proceeding
Publication Date
5-29-2004
Keywords
Native American,
Navajo,
Korean oral literature,
yellow,
significance of color,
mythology,
myths
Subject Categories
Korean Literature, Oral
Abstract
Some Korean and Navaho myths indicate the significance of the color yellow in building a strong foundation for society. For a new order such as a kingdom, a monastery and religion, even a new way of life, a yellow dragon may move to the center, but also—to spur growth of order in 12th c. and Kwanggaet'o myths—the dragon may meet his blue counterpart. Interaction between the two colors intensifies as a yellow and a blue dragon entwine in the shamanist myth of the Three Chesok Gods. Sometimes other entities bring the two colors into contact. In the very First World of the Navaho, yellow corn forms when the Blue and Yellow Clouds meet. When the Navaho finally reach the surface of this Fifth World, Turquoise Boy enters the great turquoise stone that will placed in the sky to produce yellow sunbeams for growing plants.
Citation Information
Thomas N Grove. "Yellow Dragon and Yellow Corn Girl: Some Colors in Korean and Navaho Mythology"
Society of Korean Oral Literature
(2004) p. 1 - 6
Available at: http://works.bepress.com/thomas_grove/2/