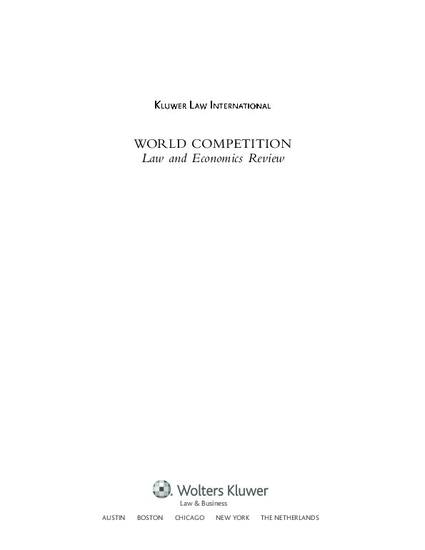 Article
Competition Law Enforcement in the Television Broadcasting Sector in Hong Kong: Past Cases and Recent Controversies
World Competition (2009)
Abstract
This article reviews the competition law regime in the television broadcasting sector in Hong Kong. This regime governs one of the only two sectors in Hong Kong subject to competition law enforcement until the government promulgates a cross-sector competition law. The article begins with an overview of the state of competition in the sector, highlighting trends in recent development that are relevant to competition law enforcement. This is followed by an examination of the two main competition provisions in the Broadcasting Ordinance and the guidelines issued by the Broadcasting Authority, the sectoral regulator. It argues that one of the greatest flaws in the provisions is their designation of the downstream market as the relevant market, hence exacerbating the limitations of a sectoral regime. This article continues with a critical review of the existing decisional practices, focusing on the regulator's treatment of market definition, predatory pricing, and causation. It argues that the regulator has largely failed to apply rigorous analysis to these issues and has adopted an overly stringent standard for causation. It concludes with an analysis of a recent controversy in the sector – the dominant terrestrial broadcaster's alleged imposition of exclusivity on artists, which prevent these artists from appearing on rival channels.
Keywords
Hong Kong,
Television Broadcasting,
Antitrust,
Competition
Citation Information
Thomas K. Cheng. "Competition Law Enforcement in the Television Broadcasting Sector in Hong Kong: Past Cases and Recent Controversies"
World Competition
Vol. 33 Iss. 2 (2009) p. 317 - 343
Available at: http://works.bepress.com/thomas_cheng1/4/