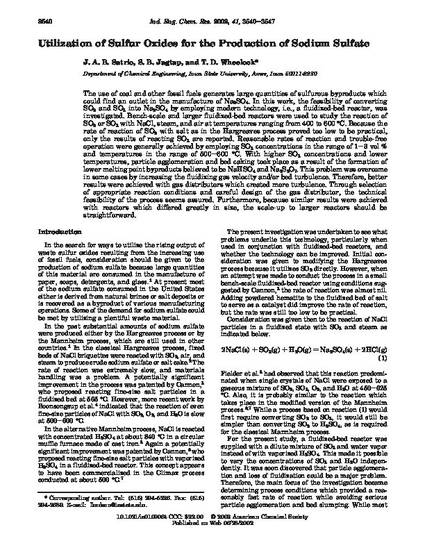 Article
Utilization of Sulfur Oxides for the Production of Sodium Sulfate
Industrial & Engineering Chemistry Process Design and Development
Publication Version
Published Version
Publication Date
1-1-2002
Abstract
The use of coal and other fossil fuels generates large quantities of sulfurous byproducts which could find an outlet in the manufacture of Na2SO4. In this work, the feasibility of converting SO2 and SO3 into Na2SO4 by employing modern technology, i.e., a fluidized-bed reactor, was investigated. Bench-scale and larger fluidized-bed reactors were used to study the reaction of SO2 or SO3 with NaCl, steam, and air at temperatures ranging from 400 to 600 °C. Because the rate of reaction of SO2 with salt as in the Hargreaves process proved too low to be practical, only the results of reacting SO3 are reported. Reasonable rates of reaction and trouble-free operation were generally achieved by employing SO3 concentrations in the range of 1−3 vol % and temperatures in the range of 500−600 °C. With higher SO3 concentrations and lower temperatures, particle agglomeration and bed caking took place as a result of the formation of lower melting point byproducts believed to be NaHSO4 and Na2S2O7. This problem was overcome in some cases by increasing the fluidizing gas velocity and/or bed turbulence. Therefore, better results were achieved with gas distributors which created more turbulence. Through selection of appropriate reaction conditions and careful design of the gas distributor, the technical feasibility of the process seems assured. Furthermore, because similar results were achieved with reactors which differed greatly in size, the scale-up to larger reactors should be straightforward.
Copyright Owner
American Chemical Society
File Format
application/pdf
Citation Information
J.A.B. Satrio, S.B. Jagtap and Thomas D. Wheelock. "Utilization of Sulfur Oxides for the Production of Sodium Sulfate"
Industrial & Engineering Chemistry Process Design and Development
Vol. 41 Iss. 15 (2002) p. 3540 - 3547
Available at: http://works.bepress.com/thomas-wheelock/41/