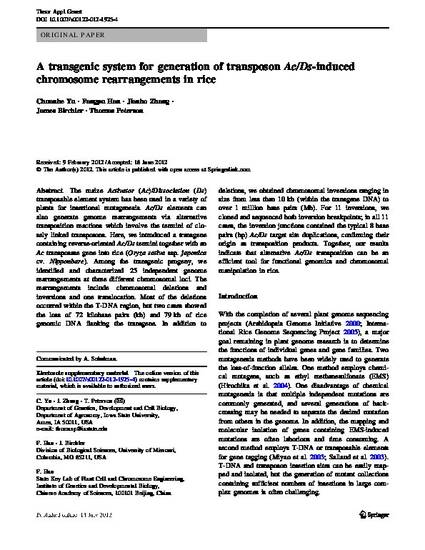 Article
A transgenic system for generation of transposon Ac/Ds-induced chromosome rearrangements in rice
Theoretical and Applied Genetics
Publication Version
Published Version
Publication Date
11-1-2012
DOI
10.1007/s00122-012-1925-4
Abstract
The maize Activator (Ac)/Dissociation (Ds) transposable element system has been used in a variety of plants for insertional mutagenesis. Ac/Ds elements can also generate genome rearrangements via alternative transposition reactions which involve the termini of closely linked transposons. Here, we introduced a transgene containing reverse-oriented Ac/Ds termini together with an Ac transposase gene into rice (Oryza sativa ssp. japonica cv. Nipponbare). Among the transgenic progeny, we identified and characterized 25 independent genome rearrangements at three different chromosomal loci. The rearrangements include chromosomal deletions and inversions and one translocation. Most of the deletions occurred within the T-DNA region, but two cases showed the loss of 72 kilobase pairs (kb) and 79 kb of rice genomic DNA flanking the transgene. In addition to deletions, we obtained chromosomal inversions ranging in size from less than 10 kb (within the transgene DNA) to over 1 million base pairs (Mb). For 11 inversions, we cloned and sequenced both inversion breakpoints; in all 11 cases, the inversion junctions contained the typical 8 base pairs (bp) Ac/Ds target site duplications, confirming their origin as transposition products. Together, our results indicate that alternative Ac/Ds transposition can be an efficient tool for functional genomics and chromosomal manipulation in rice.
Rights
This article is distributed under the terms of the Creative Commons Attribution License which permits any use, distribution, and reproduction in any medium, provided the original author(s) and the source are credited.
Copyright Owner
The Authors
File Format
application/pdf
Citation Information
Chuanhe Yu, Fangpu Han, Jianbo Zhang, James Birchler, et al.. "A transgenic system for generation of transposon Ac/Ds-induced chromosome rearrangements in rice"
Theoretical and Applied Genetics
Vol. 125 Iss. 7 (2012) p. 1449 - 1462
Available at: http://works.bepress.com/thomas-peterson/6/