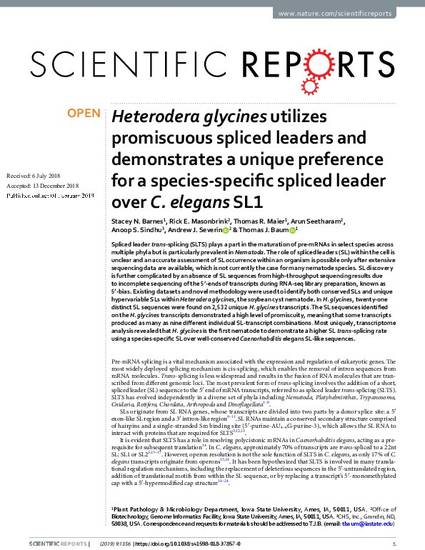 Article
Heterodera glycines utilizes promiscuous spliced leaders and demonstrates a unique preference for a species-specifc spliced leader over C. elegans SL1
Scientific Reports
Publication Version
Published Version
Publication Date
2-4-2019
DOI
10.1038/s41598-018-37857-0
Abstract
Spliced leader trans-splicing (SLTS) plays a part in the maturation of pre-mRNAs in select species across multiple phyla but is particularly prevalent in Nematoda. The role of spliced leaders (SL) within the cell is unclear and an accurate assessment of SL occurrence within an organism is possible only after extensive sequencing data are available, which is not currently the case for many nematode species. SL discovery is further complicated by an absence of SL sequences from high-throughput sequencing results due to incomplete sequencing of the 5'-ends of transcripts during RNA-seq library preparation, known as 5'-bias. Existing datasets and novel methodology were used to identify both conserved SLs and unique hypervariable SLs within Heterodera glycines, the soybean cyst nematode. In H. glycines, twenty-one distinct SL sequences were found on 2,532 unique H. glycines transcripts. The SL sequences identified on the H. glycines transcripts demonstrated a high level of promiscuity, meaning that some transcripts produced as many as nine different individual SL-transcript combinations. Most uniquely, transcriptome analysis revealed that H. glycines is the first nematode to demonstrate a higher SL trans-splicing rate using a species-specific SL over well-conserved Caenorhabditis elegans SL-like sequences.
Creative Commons License
Creative Commons Attribution 4.0
Copyright Owner
The Authors
File Format
application/pdf
Citation Information
Stacey N. Barnes, Rick E. Masonbrink, Tom R. Maier, Arun S. Seetharam, et al.. "Heterodera glycines utilizes promiscuous spliced leaders and demonstrates a unique preference for a species-specifc spliced leader over C. elegans SL1"
Scientific Reports
Vol. 9 (2019) p. 1356
Available at: http://works.bepress.com/thomas-baum/64/