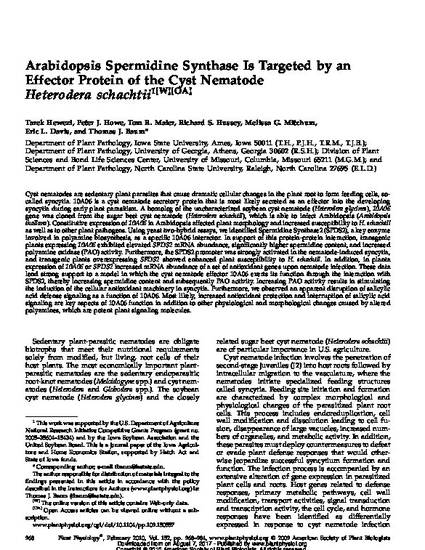 Article
Arabidopsis Spermidine Synthase Is Targeted by an Effector Protein of the Cyst Nematode Heterodera schachtii
Plant Physiology
Publication Version
Published Version
Publication Date
2-1-2010
DOI
10.1104/pp.109.150557
Abstract
Cyst nematodes are sedentary plant parasites that cause dramatic cellular changes in the plant root to form feeding cells, so-called syncytia. 10A06 is a cyst nematode secretory protein that is most likely secreted as an effector into the developing syncytia during early plant parasitism. A homolog of the uncharacterized soybean cyst nematode (Heterodera glycines), 10A06 gene was cloned from the sugar beet cyst nematode (Heterodera schachtii), which is able to infect Arabidopsis (Arabidopsis thaliana). Constitutive expression of 10A06 in Arabidopsis affected plant morphology and increased susceptibility to H. schachtii as well as to other plant pathogens. Using yeast two-hybrid assays, we identified Spermidine Synthase2 (SPDS2), a key enzyme involved in polyamine biosynthesis, as a specific 10A06 interactor. In support of this protein-protein interaction, transgenic plants expressing 10A06 exhibited elevated SPDS2 mRNA abundance, significantly higher spermidine content, and increased polyamine oxidase (PAO) activity. Furthermore, the SPDS2 promoter was strongly activated in the nematode-induced syncytia, and transgenic plants overexpressing SPDS2 showed enhanced plant susceptibility to H. schachtii. In addition, in planta expression of 10A06 or SPDS2 increased mRNA abundance of a set of antioxidant genes upon nematode infection. These data lend strong support to a model in which the cyst nematode effector 10A06 exerts its function through the interaction with SPDS2, thereby increasing spermidine content and subsequently PAO activity. Increasing PAO activity results in stimulating the induction of the cellular antioxidant machinery in syncytia. Furthermore, we observed an apparent disruption of salicylic acid defense signaling as a function of 10A06. Most likely, increased antioxidant protection and interruption of salicylic acid signaling are key aspects of 10A06 function in addition to other physiological and morphological changes caused by altered polyamines, which are potent plant signaling molecules.
Copyright Owner
American Society of Plant Biologists
File Format
application/pdf
Citation Information
Tarek Hewezi, Peter J. Howe, Tom R. Maier, Richard S. Hussey, et al.. "Arabidopsis Spermidine Synthase Is Targeted by an Effector Protein of the Cyst Nematode Heterodera schachtii"
Plant Physiology
Vol. 152 Iss. 2 (2010) p. 968 - 984
Available at: http://works.bepress.com/thomas-baum/55/