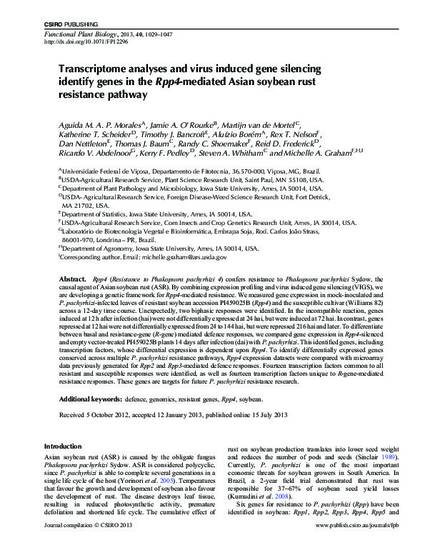 Article
Transcriptome analyses and virus induced gene silencing identify genes in the Rpp4 -mediated Asian soybean rust resistance pathway
Functional Plant Biology
Publication Version
Published Version
Publication Date
1-1-2013
Abstract
Rpp4 (Resistance to Phakopsora pachyrhizi 4) confers resistance to Phakopsora pachyrhizi Sydow, the causal agent of Asian soybean rust (ASR). By combining expression profiling and virus induced gene silencing (VIGS), we are developing a genetic framework for Rpp4-mediated resistance. We measured gene expression in mock-inoculated and P. pachyrhizi-infected leaves of resistant soybean accession PI459025B (Rpp4) and the susceptible cultivar (Williams 82) across a 12-day time course. Unexpectedly, two biphasic responses were identified. In the incompatible reaction, genes induced at 12 h after infection (hai) were not differentially expressed at 24 hai, but were induced at 72 hai. In contrast, genes repressed at 12 hai were not differentially expressed from 24 to 144 hai, but were repressed 216 hai and later. To differentiate between basal and resistance-gene (R-gene) mediated defence responses, we compared gene expression in Rpp4-silenced and empty vector-treated PI459025B plants 14 days after infection (dai) with P. pachyrhizi. This identified genes, including transcription factors, whose differential expression is dependent upon Rpp4. To identify differentially expressed genes conserved across multiple P. pachyrhizi resistance pathways, Rpp4 expression datasets were compared with microarray data previously generated for Rpp2 and Rpp3-mediated defence responses. Fourteen transcription factors common to all resistant and susceptible responses were identified, as well as fourteen transcription factors unique to R-gene-mediated resistance responses. These genes are targets for future P. pachyrhizi resistance research.
Rights
Works produced by employees of the U.S. Government as part of their official duties are not copyrighted within the U.S. The content of this document is not copyrighted.
File Format
application/pdf
Citation Information
Aguida A.M.P. Morales, Jamie A. O'Rourke, Martijn van de Mortel, Katherine T. Scheider, et al.. "Transcriptome analyses and virus induced gene silencing identify genes in the Rpp4 -mediated Asian soybean rust resistance pathway"
Functional Plant Biology
Vol. 40 (2013) p. 1029 - 1047
Available at: http://works.bepress.com/thomas-baum/4/