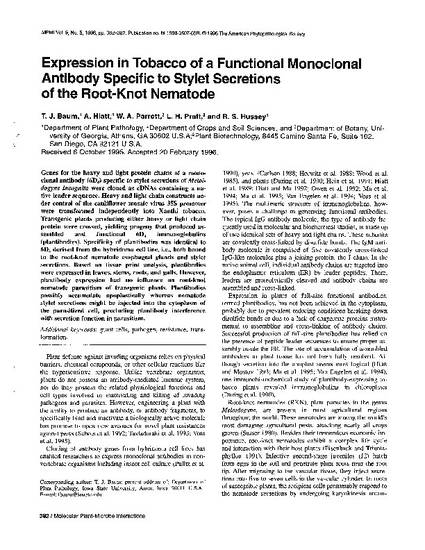 Article
Expression in Tobacco of a Functional Monoclonal Antibody Specific to Stylet Secretions of the Root-Knot Nematode
Molecular Plant-Microbe Interactions (1996)
Abstract
Genes for the heavy and light protein chains of a monoclonal antibody (6D
4
) specific to stylet secretions of 
Meloi-dogyne incognita 
were cloned as cDNAs containing a native leader sequence. Heavy and light chain constructs under control of the cauliflower mosaic virus 35S promoter were transformed independently into Xanthi tobacco. Transgenic plants producing either heavy or light chain protein were crossed, yielding progeny that produced assembled and functional 6D
4
 immunoglobulins (plantibodies). Specificity of plantibodies was identical to 6D
4
 derived from the hybridoma cell line, i.e., both bound to the root-knot nematode esophageal glands and stylet secretions. Based on tissue print analysis, plantibodies were expressed in leaves, stems, roots, and galls. However, plantibody expression had no influence on root-knot nematode parasitism of transgenic plants. Plantibodies possibly accumulate apoplastically whereas nematode stylet secretions might be injected into the cytoplasm of the parasitized cell, precluding plantibody interference with secretion function in parasitism.
Keywords
giant-cells,
pathogen,
resistance,
transformation
Publication Date
July, 1996
DOI
10.1094/MPMI-9-03821996
Citation Information
T. J. Baum, A. Hiatt, W. A. Parrott and L. H. Pratt. "Expression in Tobacco of a Functional Monoclonal Antibody Specific to Stylet Secretions of the Root-Knot Nematode"
Molecular Plant-Microbe Interactions
Vol. 9 Iss. 5 (1996) p. 382 - 387
Available at: http://works.bepress.com/thomas-baum/33/