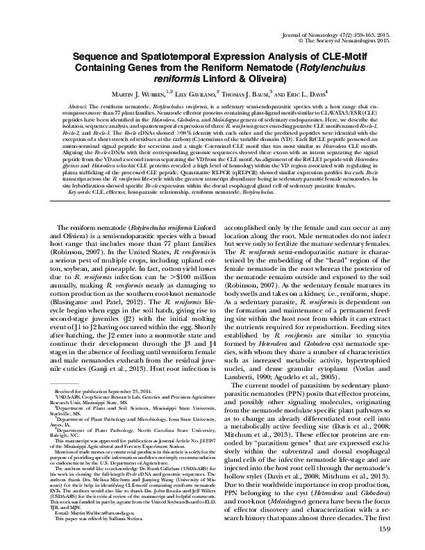 Article
Sequence and Spatiotemporal Expression Analysis of CLE-Motif Containing Genes from the Reniform Nematode (Rotylenchulus reniformis Linford & Oliveira)
Journal of Nematology
Publication Version
Published Version
Publication Date
6-1-2015
Abstract
The reniform nematode, Rotylenchulus reniformis, is a sedentary semi-endoparasitic species with a host range that encompasses more than 77 plant families. Nematode effector proteins containing plant-ligand motifs similar to CLAVATA3/ESR (CLE) peptides have been identified in the Heterodera, Globodera, and Meloidogyne genera of sedentary endoparasites. Here, we describe the isolation, sequence analysis, and spatiotemporal expression of three R. reniformis genes encoding putative CLE motifs named Rr-cle-1, Rr-cle-2, and Rr-cle-3. The Rr-cle cDNAs showed .98% identity with each other and the predicted peptides were identical with the exception of a short stretch of residues at the carboxy(C)-terminus of the variable domain (VD). Each RrCLE peptide possessed an amino-terminal signal peptide for secretion and a single C-terminal CLE motif that was most similar to Heterodera CLE motifs. Aligning the Rr-cle cDNAs with their corresponding genomic sequences showed three exons with an intron separating the signal peptide from the VD and a second intron separating the VD from the CLE motif. An alignment of the RrCLE1 peptide with Heterodera glycines and Heterodera schachtii CLE proteins revealed a high level of homology within the VD region associated with regulating in planta trafficking of the processed CLE peptide. Quantitative RT-PCR (qRT-PCR) showed similar expression profiles for each Rr-cle transcript across the R. reniformis life-cycle with the greatest transcript abundance being in sedentary parasitic female nematodes. In situ hybridization showed specific Rr-cle expression within the dorsal esophageal gland cell of sedentary parasitic females.
Rights
Works produced by employees of the U.S. Government as part of their official duties are not copyrighted within the U.S. The content of this document is not copyrighted.
File Format
application/pdf
Citation Information
Martin J. Wubben, Lily Gavilano, Thomas J. Baum and Eric L. Davis. "Sequence and Spatiotemporal Expression Analysis of CLE-Motif Containing Genes from the Reniform Nematode (Rotylenchulus reniformis Linford & Oliveira)"
Journal of Nematology
Vol. 47 Iss. 2 (2015) p. 159 - 165
Available at: http://works.bepress.com/thomas-baum/13/