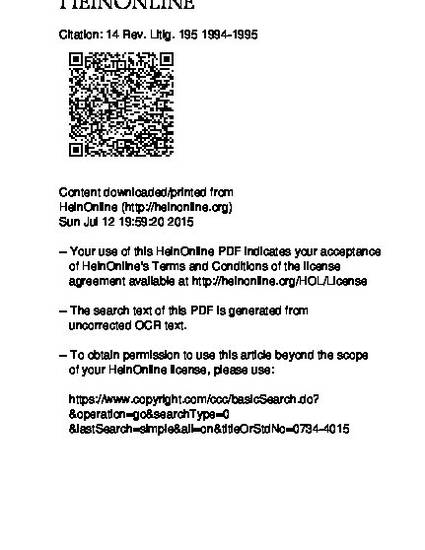 Article
The Inherent Power to Impose Sanctions: How a Federal Judge is Like an 800-pound Gorilla
Rev. Litig.
Publication Date
1-1-1994
Abstract
Inherent sanctions, like Rule 11 sanctions, may be imposed against any person responsible for wrongdoing, regardless of whether that person is a litigant or an attorney. Sanctionable wrongdoing includes pre litigation misconduct, as well as abuses of process that occur beyond the courtroom, such as the willful disobedience of an otherwise valid court order, so long as the court affords a violation due process before imposing sanctions. In addition to Rule 11's function as a deterrent, inherent sanctions further the goals of compensation and punishment.
Citation Information
Thomas E. Baker. "The Inherent Power to Impose Sanctions: How a Federal Judge is Like an 800-pound Gorilla"
Rev. Litig.
Vol. 14 (1994) p. 195
Available at: http://works.bepress.com/thomas-baker/51/