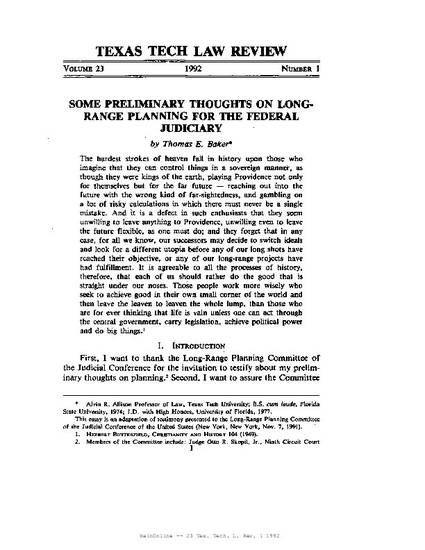 Article
Some Preliminary Thoughts on Long-Range Planning for the Federal Judiciary
Tex. Tech L. Rev.
Publication Date
1-1-1992
Abstract
Professor Baker gives his prescription for the Long-Range Planning Committee of the Judicial Conference. First, he considers the "mission" of the federal courts, explaining that there should be no single, objectively correct conception of the role of the federal courts. Second, he discusses his conception of long-range planning, in terms of a relatively short event horizon and the absolutely wide-open scope of the range of proposals that are relevant to the work of the Committee. Third, he describes his preliminary thoughts on the role of the Committee to be a kind of permanent Federal Courts Study Committee modeled after comparable Congressional committees. Fourth, Professor Baker touches briefly on some of the organizational and operational relationships and attitudes he deems important as the Committee begins the enterprise of judicial branch planning.
Citation Information
Thomas E. Baker. "Some Preliminary Thoughts on Long-Range Planning for the Federal Judiciary"
Tex. Tech L. Rev.
Vol. 23 (1992) p. 15
Available at: http://works.bepress.com/thomas-baker/46/