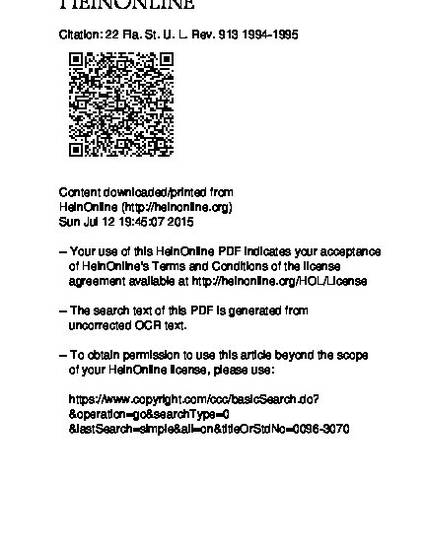 Article
Intramural Reforms: How the U.S. Courts of Appeals Have Helped Themselves
Fla. St. U. L. Rev.
Publication Date
1-1-1995
Excerpt
"Intramural reforms" are measures by which the U.S. courts of appeals have adapted the traditional appellate procedures that have historically performed the appellate role and function in our federal system. These reforms amount to procedural shortcuts, resulting in an abbreviated appellate process, justified primarily by the press of docket. For convenience, the various intramural reforms have been grouped here by appellate function: oral argument, briefing, opinion writing, case management techniques, and staffing arrangements.
Citation Information
Thomas E. Baker. "Intramural Reforms: How the U.S. Courts of Appeals Have Helped Themselves"
Fla. St. U. L. Rev.
Vol. 22 (1995) p. 913
Available at: http://works.bepress.com/thomas-baker/39/