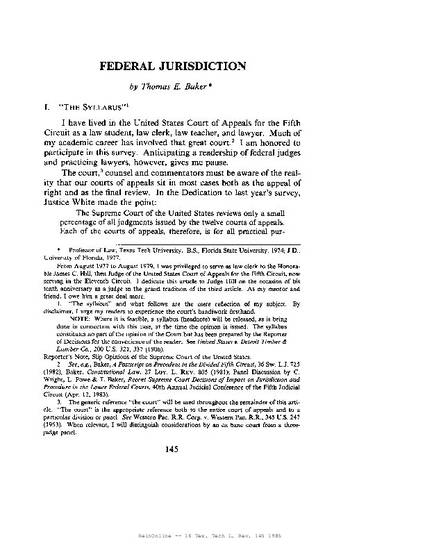 Article
Federal Jurisdiction
Tex. Tech L. Rev.
Publication Date
1-1-1985
Excerpt
Common sense would suggest that court timing in dismissing the federal claim should control. If the federal claim falls before trial, usually the pendent state claim "should be dismissed as well. "Of course, in a complex case in which pretrial proceedings and discovery have been extensive, efficient use of judicial resources impels the federal court to go on. It may be that the allowable scope of the trial court's discretion is so broad that the appellate court only "lipsynches" the factorial test before affirmance, at least when the discretion has been exercised in favor of jurisdiction. If it seems curious to begin a discussion of federal jurisdiction with a doctrine that allows the reach of state law claims, remember that this functional concept goes back to Chief Justice Marshall's day and, as we have seen, continues to be a viable technique. Such are the boundaries of article III power.
Citation Information
Thomas E. Baker. "Federal Jurisdiction"
Tex. Tech L. Rev.
Vol. 16 (1985) p. 145
Available at: http://works.bepress.com/thomas-baker/34/