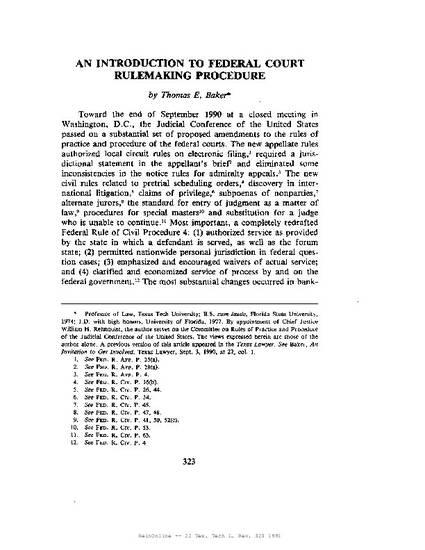 Article
An Introduction to Federal Court Rulemaking Procedure
Tex. Tech L. Rev.
Publication Date
1-1-1991
Abstract
Toward the end of September 1990 at a closed meeting in Washington, DC, the Judicial Conference of the United States passed on a substantial set of proposed amendments to the rules of practice and procedure of the federal courts. The new appellate rules authorized local circuit rules on electronic filing, required a jurisdictional statement in the appellant's brief and eliminated some inconsistencies in the notice rules for admiralty appeals.
Citation Information
Thomas E. Baker. "An Introduction to Federal Court Rulemaking Procedure"
Tex. Tech L. Rev.
Vol. 22 (1991) p. 323
Available at: http://works.bepress.com/thomas-baker/28/