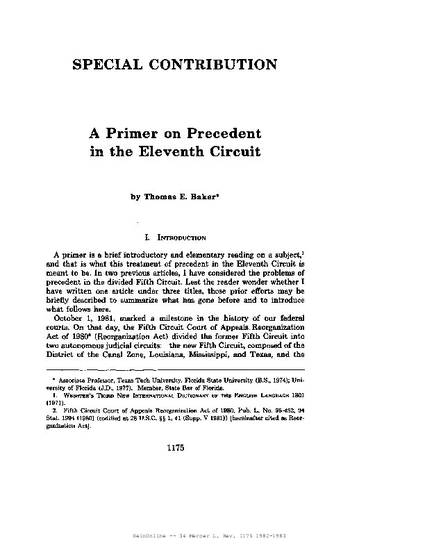 Article
A Primer on Precedent in the Eleventh Circuit
Mercer L. Rev.
Publication Date
1-1-1983
Abstract
This article is the third and final article in a series of articles written by Professor Baker considering the problems of precedent created by the Fifth Circuit Court of Appeals Reorganization Act of 1980. The Act divided the former Fifth Circuit into two autonomous judicial circuits: the new Fifth Circuit, composed of the District of the Canal Zone, Louisiana, Mississippi, and Texas, and the new Eleventh Circuit, composed of Alabama, Florida, and Georgia. In this article, Professor Baker seeks to provide an introduction to how the new Eleventh Circuit has treated antecedent Fifth Circuit precedents. First, Professor Baker identifies and describes the various decision-making units that have evolved during the transition from one circuit to two circuits. Second, Professor Baker uses two important Eleventh Circuit decisions to provide a temporal rule for resolving the question of precedential value. Third, Professor Baker divides decision-making unit output on a time line. Finally, the article provides a graphic depiction summarizing the narrative. Professor Baker wrote this article intending to aid Eleventh Circuit practitioners in understanding precedent in the Eleventh Circuit. Professor Baker explains that because appellate lawyers help make law, the legal effect of this primer may be indirect, but it should be a significant tool.
Citation Information
Thomas E. Baker. "A Primer on Precedent in the Eleventh Circuit"
Mercer L. Rev.
Vol. 34 (1983) p. 1175
Available at: http://works.bepress.com/thomas-baker/12/