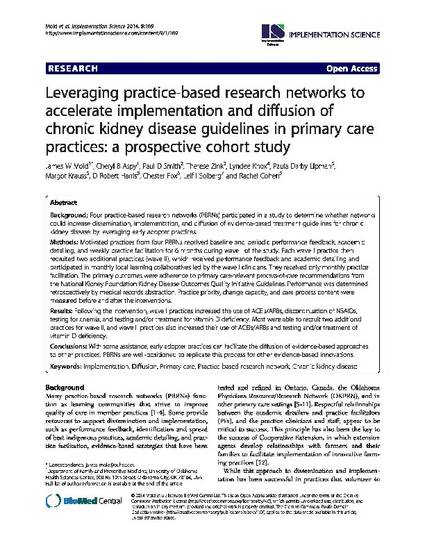 Article
Leveraging Practice-Based Research Networks to Accelerate Implementation and Diffusion of Chronic Kidney Disease Guidelines in Primary Care practices: A Prospective Cohort Study
Implementation Science
Publication Date
1-1-2014
Abstract
Background
Four practice-based research networks (PBRNs) participated in a study to determine whether networks could increase dissemination, implementation, and diffusion of evidence-based treatment guidelines for chronic kidney disease by leveraging early adopter practices. Methods
Motivated practices from four PBRNs received baseline and periodic performance feedback, academic detailing, and weekly practice facilitation for 6 months during wave I of the study. Each wave I practice then recruited two additional practices (wave II), which received performance feedback and academic detailing and participated in monthly local learning collaboratives led by the wave I clinicians. They received only monthly practice facilitation. The primary outcomes were adherence to primary care-relevant process-of-care recommendations from the National Kidney Foundation Kidney Disease Outcomes Quality Initiative Guidelines. Performance was determined retrospectively by medical records abstraction. Practice priority, change capacity, and care process content were measured before and after the interventions. Results
Following the intervention, wave I practices increased the use of ACEIs/ARBs, discontinuation of NSAIDs, testing for anemia, and testing and/or treatment for vitamin D deficiency. Most were able to recruit two additional practices for wave II, and wave II practices also increased their use of ACEIs/ARBs and testing and/or treatment of vitamin D deficiency. Conclusions
With some assistance, early adopter practices can facilitate the diffusion of evidence-based approaches to other practices. PBRNs are well-positioned to replicate this process for other evidence-based innovations.
DOI
10.1186/s13012-014-0169-x
Citation Information
James W. Mold, Cheryl B. Aspy, Paul D. Smith, Therese M. Zink, et al.. "Leveraging Practice-Based Research Networks to Accelerate Implementation and Diffusion of Chronic Kidney Disease Guidelines in Primary Care practices: A Prospective Cohort Study"
Implementation Science
Vol. 9 (2014) ISSN: 17485908
Available at: http://works.bepress.com/therese_zink/126/