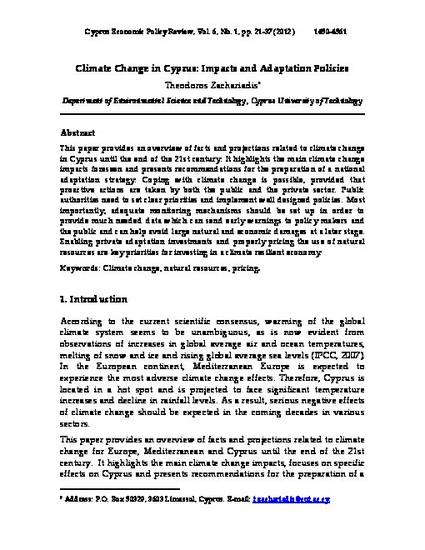 Article
Climate Change in Cyprus: Impacts and Adaptation Policies
Cyprus Economic Policy Review (2012)
Abstract
This paper provides an overview of facts and projections related to climate change in Cyprus until the end of the 21st century. It highlights the main climate change impacts foreseen and presents recommendations for the preparation of a national adaptation strategy. Coping with climate change is possible, provided that proactive actions are taken by both the public and the private sector. Public authorities need to set clear priorities and implement well designed policies. Most importantly, adequate monitoring mechanisms should be set up in order to provide much needed data which can send early warnings to policy makers and the public and can help avoid large natural and economic damages at a later stage. Enabling private adaptation investments and properly pricing the use of natural resources are key priorities for investing in a climate resilient economy.
Citation Information
Theodoros Zachariadis. "Climate Change in Cyprus: Impacts and Adaptation Policies"
Cyprus Economic Policy Review
Vol. 6 Iss. 1 (2012)
Available at: http://works.bepress.com/theodoros_zachariadis/29/