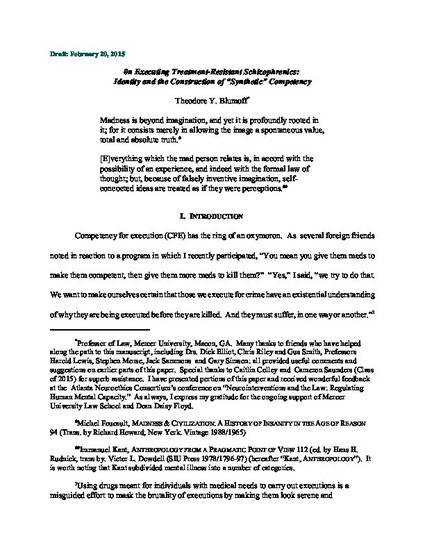 Unpublished Paper
0n Executing Treatment-Resistant Schizophrenics: Identity and the Construction of "Synthetic" Competency
ExpressO (2015)
Abstract
Since 2003, death penalty jurisdictions have been permitted to use psychotropic drugs to "restore" the competency of schizophrenics so they can execute them. Exactly why it is permissible to execute a "synthetically" or "artificially" competent individual is unclear in light of Ford v. Wainwright, a 1986 decision in which the United States Supreme Court, following ancient custom and common law rule, held that the cruel and unusual prohibition of the Eighth Amendment prohibited execution of the insane. The lack of clarity follows from the inability of the Court to agree on the reason the tradition persists. Nonetheless, health care providers have faced an apparent ethical dilemma, one expressed by a dissenting judge in the Circuit Court: "[D]octors who are treating psychotic, condemned prisoners [are] in an untenable position: treating the prisoner may provide short-term relief but ultimately result in his execution, whereas leaving him untreated will condemn him to a world such as Singleton's, filled with disturbing delusions and hallucinations." They confront a kind of Sophie's Choice of neuroethical evils. In this paper, I conclude that the dilemma posed, though it undoubtedly affects ethical decision-making, rests on a narrative according to which certain drugs "restore" competency. The basis of the construction is doubly questionable, i.e., both in its reliance on state-supervised, captive facts and, so, in its prescriptions. First, its factual inaccuracy results from routinely conflating schizophrenia with psychosis. Neuroleptic (or psychotropic) drugs can–with meaningful patience, a cooperative patient, time to find the right drug, the elimination of sometimes hellacious side-effects, and ample counseling–provide the individual with some buffer from positive schizophrenic episodes. Even the best of them, however, cannot eliminate the schizophrenia: There is no drug that can accomplish that feat. What that means from a phenomenological perspective is that the punishing authorities have a license to execute treatment resistant individuals whose state of mind is not only unknown, but presently unknowable in any but the most primitive–animalistic–sense. Even a schizophrenic whose psychotic episodes are quelled for some period of time is still a schizophrenic.
Keywords
Schizophrenia,
treatment,
competency,
execution,
personhood,
identity
Publication Date
February 20, 2015
Citation Information
Theodore Y Blumoff. "0n Executing Treatment-Resistant Schizophrenics: Identity and the Construction of "Synthetic" Competency"
ExpressO
(2015)
Available at: http://works.bepress.com/theodore_blumoff/5/