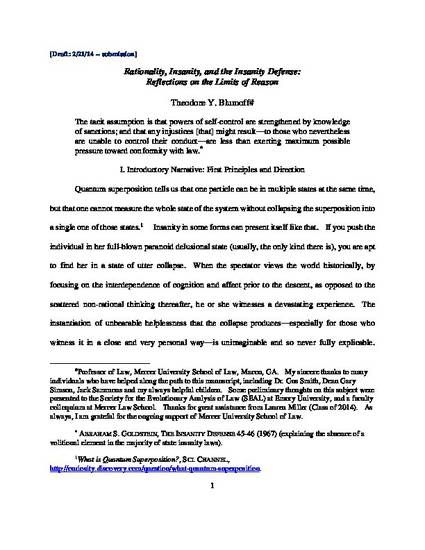 Unpublished Paper
Rationality, Insanity, and the Insanity Defense: Reflections on the Limits of Reason
ExpressO (2014)
Abstract
Individuals who suffer from chronic paranoid ideations live with deeply embedded conspiratorial delusions that are sometimes accompanied by unwanted visual and/or auditory stimuli, sometime neither: just psychotic delusions in which they feel as if they have lost control of their lives – and of course they have, albeit not from the performances of foreign forces. When those perceived forces persevere for even a fairly short period of time, they can dictate the performance of evil deeds that the individual ultimately feels helpless to oppose. What observations and findings from neuroscience make clear is that such individuals do not lack knowledge, a quality M'Nagthen requires for exculpation; they lack control, and the laws of the many states that fail to recognize this reality are incarcerating individuals who lack blameworthiness.
Keywords
insanity,
rationality,
affect,
neuroscience,
schizophrenia
Publication Date
March 2, 2014
Citation Information
Theodore Y Blumoff. "Rationality, Insanity, and the Insanity Defense: Reflections on the Limits of Reason"
ExpressO
(2014)
Available at: http://works.bepress.com/theodore_blumoff/4/