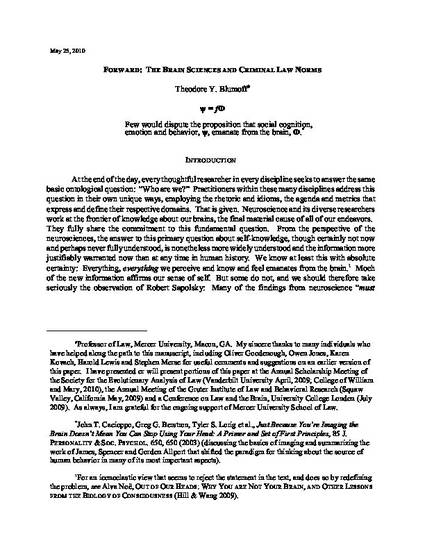 Unpublished Paper
The Brain Sciences and Criminal Law Norms
ExpressO (2010)
Abstract
Although neuroscience and the tools of brain imaging are sufficiently well developed to evidence our neurobiology at a level of detail unimaginable until even decade ago (roughly the size of a grain of rice), they are not yet sufficiently developed to be consistently useful in the guilt phase of most criminal trials. Given the advances in imaging and behavioral genetics, however, neuroscience is sufficiently mature today to effect some global procedural and substantive changes in our criminal law jurisprudence – e.g., definitions of, and burdens of proof on the issue of competency. In this work, I survey many of the presuppositions that guide work in a jurisprudence grounded in neuroscience, evolutionary psychology and behavioral genetics and suggest how the findings in these could useful in effecting real change. Building on suggestions made by Robert Sapolsky among others, I argue that recent findings in neuroscience must not only "challenge our sense of self," but lead to some changes in criminal law, because by incorporating these findings within our discussions of jurisprudence, we take into account more fully than we now do the cognitive and volitional deficits that many among us are condemned to suffer.
Keywords
neuroscience,
neurobiology,
jurisprudence,
responsibility,
brain deficits
Citation Information
Theodore Y. Blumoff. "The Brain Sciences and Criminal Law Norms"
ExpressO
(2010)
Available at: http://works.bepress.com/theodore_blumoff/3/