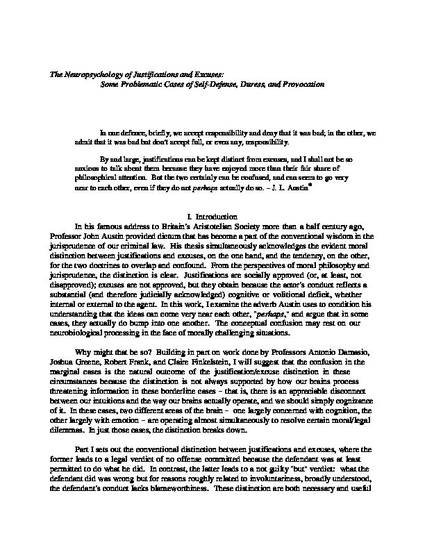 Unpublished Paper
The Neuropsychology of Justifications and Excuses: Some Problematic Cases of Self-defense, Duress and Provocation
ExpressO (2009)
Abstract
In a famous address to the Aristotelian Society, Professor J. L. Austin provided dictum that has become a part of the conventional wisdom in the jurisprudence of our criminal law. His thesis simultaneously acknowledges the evident moral distinction between justifications and excuses, on the one hand, and the tendency, on the other, for the two doctrines to overlap and confound. From the perspectives of moral philosophy and jurisprudence, the distinction is clear. Justifications are socially approved (or, at least, not disapproved); excuses are not approved, but they obtain because the actor's conduct reflects a substantial (and therefore judicially acknowledged) cognitive or volitional deficit, whether internal or external to the agent. In this work, I examine the adverb Austin uses to condition his understanding that the ideas can come very near each other, "perhaps," and argue that in some cases, they actually do bump into one another. The conceptual confusion may rest on our neurobiological processing in the face of morally challenging situations because in problematic cases, two different areas of the brain – one largely concerned with cognition, the other largely with emotion – are operating almost simultaneously to resolve certain moral/legal dilemmas. In just those cases, the distinction breaks down.
Keywords
neuroscience,
behavioral genetics,
criminal law
Publication Date
May 18, 2009
Citation Information
Theodore Y. Blumoff. "The Neuropsychology of Justifications and Excuses: Some Problematic Cases of Self-defense, Duress and Provocation"
ExpressO
(2009)
Available at: http://works.bepress.com/theodore_blumoff/2/