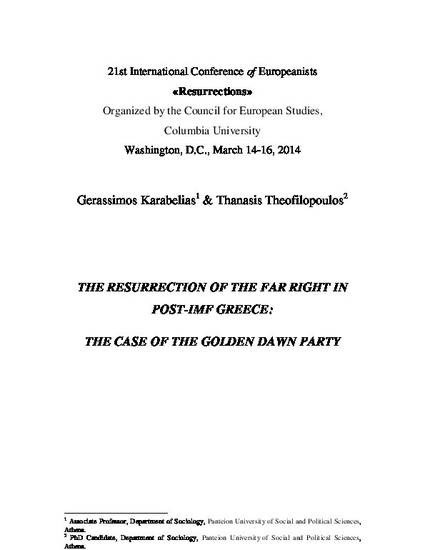 Unpublished Paper
The resurrection of the far right in post-IMF Greece: the case of the Golden Dawn party.
Extreme right (2014)
Abstract
In May and in June 2012, the Golden Dawn, an extremist right-wing political party with overtly anti-parliamentary, anti-liberal, pro-racist ideology which perceives the exercise of physical violence as a legitimate way of claiming political power, managed to win a remarkably large number of seats in the Greek national parliament.  Despite the absence of a far-right movement in the Greek political scene since the fall of military junta in 1974, the resurrection of it in the 2012 elections came as a surprise to many observers.  They often attributed its rise to Greece's financial crisis and the Golden Dawn's ability to offer an easily "digestible" and simplistic explanation for the country's situation, suggesting that there was a "conspiracy" of internal and external "enemies" against it.  Assisted by the gradual obsolescence of politics and  the heated immigration issue, the Golden Dawn became the expression of anger of the betrayed and the have-nots.
The arrest of its leader and a large number of its prominent members for laundering money and working for a mafia-style terrorist organization, by a leading right-wing coalition government, brought to the surface both the underground operations of the Golden Dawn Party as well as its connections with certain members of the police and the military.   The goal of this paper will be to offer shed some light over the sudden rise of the Far-Right to political power and its effect on the political, social and economic arena of post-IMF Greece.
Keywords
Extreme right,
far right,
racism,
xenophobia,
political violence,
elections,
neonazism,
austerity measures,
greek crisis,
Golden Dawn
Citation Information
Thanasis Theofilopoulos and Gerassimos Karabelias. "The resurrection of the far right in post-IMF Greece: the case of the Golden Dawn party."
Extreme right
(2014)
Available at: http://works.bepress.com/thanasis-theofilopoulos/5/