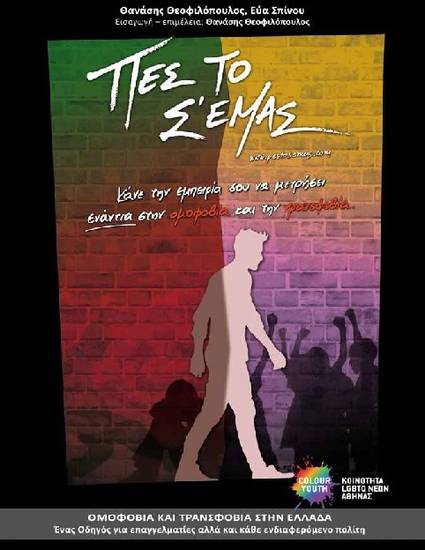 Book
ΟΜΟΦΟΒΙΑ ΚΑΙ ΤΡΑΝΣΦΟΒΙΑ ΣΤΗΝ ΕΛΛΑΔΑ Ένας Οδηγός για επαγγελματίες αλλά και για κάθε ενδιαφερόμενο πολίτη.
(2015)
Abstract
"Homophobia and transphobia in Greece. A guide for professionals and for any interested citizen". This publication is part of the project "Tell us", implemented by the Greek NGO Colour Youth - Athens LGBTQ Youth Community with the support of Iceland, Liechtenstein and Norway, through the EEA Grants Greek NGO Programme "We are all Citizens", which is funded by the ΕΕΑ Financial Mechanism 2009-2014. The Bodossaki Foundation is the Fund Operator for the Programme in Greece.
The views expressed in this publication are those of the authors and do not necessarily reflect the views of the EEA Grants or the Bodossaki Foundation. Available only in Greek language.
Keywords
LGBTQI,
LGBTQ,
LGBT,
Hate crime,
Racist violence,
Homophobia,
Transphobia,
Biphobia,
Discrimination,
Human rights,
Gender identity,
Sexual orientation
Publication Date
June, 2015
Editor
Thanasis Theofilopoulos
Publisher
NGO Colour Youth - Athens LGBTQ Youth Community
Citation Information
Thanasis Theofilopoulos and Eva Spinou. ΟΜΟΦΟΒΙΑ ΚΑΙ ΤΡΑΝΣΦΟΒΙΑ ΣΤΗΝ ΕΛΛΑΔΑ Ένας Οδηγός για επαγγελματίες αλλά και για κάθε ενδιαφερόμενο πολίτη.. Athens(2015)
Available at: http://works.bepress.com/thanasis-theofilopoulos/1/