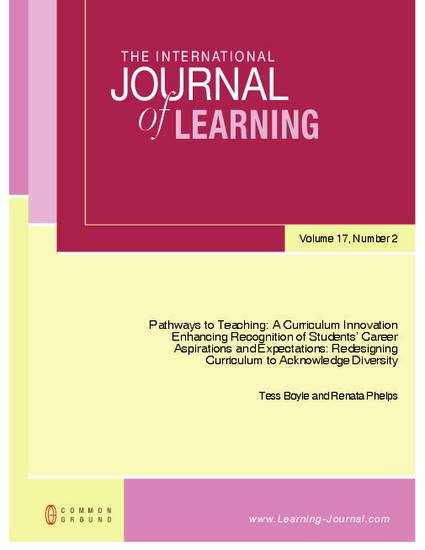 Article
Pathways to teaching: a curriculum innovation enhancing recognition of students' career aspirations and expectations: redesigning curriculum to acknowledge diversity
International Journal of Learning
Publication Date
1-1-2010
Peer Reviewed
Peer-Reviewed
Abstract
Teacher education courses have traditionally focused on preparing students for a career of full-time permanent employment. While this is in some ways a necessary assumption, it also overlooks the employment realities of many future graduates who do not move into such positions. Though teacher accreditation processes in Australia have, to some degree, acknowledged the need for alternative pathways into the profession for those who do not find themselves with full time appointments, more can be done within teacher education to prepare students for alternative careers in the profession. The paper suggests that better understanding the career aspirations and expectations of pre-service teachers can assist teacher educators to design relevant and responsive curriculum that better meets the needs of the students and their chosen profession. The paper describes an innovative approach to curriculum design and delivery in the final year of a primary education course whereby students are encouraged to pursue learning related to an identified, preferred career pathway based not only on their aspirations but also on the realities of their employment opportunities and preferences. It demonstrates how the unit draws directly on data, gathered online at the beginning of semester, thus ensuring the unit is responsive to the diverse life experiences and aspirations of teacher education graduates and how these might influences their choice of an employment pathway into the profession.
Citation Information
Boyle, T & Phelps, R 2010, 'Pathways to teaching: a curriculum innovation enhancing recognition of students' career aspirations and expectations: redesigning curriculum to acknowledge diversity', International Journal of Learning, vol. 17, no. 2, pp. 357-370.
Published version reproduced in ePublications@scu with the kind permission of the publisher.
Readers must seek permission from the publisher to reproduce.