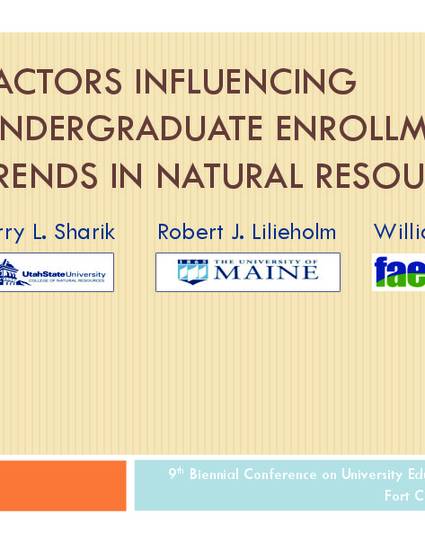 Presentation
Factors Influencing Undergraduate Enrollment Trends in Natural Resources
Conference on University Education in Natural Resources (2012)
Abstract
Our 30-year record of undergraduate enrollment trends in natural resources shows pronounced cyclical swings over time, well beyond those for enrollments across all disciplines in four-year U.S. institutions of higher learning. Despite large increases in overall student enrollments, current natural resources enrollments are at about the same level as historic highs in the early 1980s and mid 1990s, and are increasingly dominated by broad degrees in natural resources. The reasons for these cycles are many and complex, and appear to be influenced by the political climate, unemployment rates, changing public values towards forests, a perceived lack of jobs and low wages in natural resources, increasing levels of women and minorities in the college-age population, declining timber harvest levels on public lands, changing accreditation standards, changing values of students, shifts in employment among disciplines by federal natural resource agencies, and perceptions of those in the federal government who advertise employment opportunities for graduates in various disciplines. These findings suggest that those who produce natural resource graduates and those who hire them will need to adapt to a dynamic system in the supply of and demand for these graduates over time.
Citation Information
Terry Sharik. "Factors Influencing Undergraduate Enrollment Trends in Natural Resources"
Conference on University Education in Natural Resources
(2012)
Available at: http://works.bepress.com/terry_sharik/21/