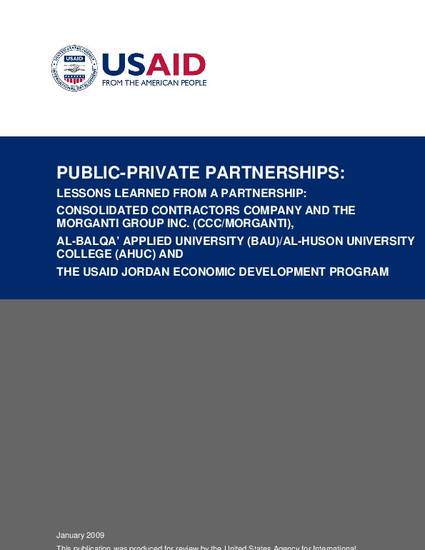 Article
Public-Private Partnerships: Lessons Learned from a Partnership: Consolidated Contractors Company and the Morganti Group Inc. (Ccc/Morganti), Al-Balqa' Applied University (Bau)/Al-Huson University College (Ahuc) and the Usaid Jordan Economic Development Program
Center for Social Policy Publications
Document Type
Research Report
Publication Date
1-1-2009
Abstract
This paper describes a Public-Private Partnership that brings together: Al-Balqa' Applied University/Al-Huson University College (AHUC); Consolidated Contractors Company and the Morganti Group Inc. (CCC/MORGANTI); Al-Huson Career Development Center (CDC); and USAID Jordan Economic Development Program (SABEQ). The Partnership enhances CCC/MORGANTI with its corporate responsibility initiative in Jordan as well as addressing CCC/MORGANTI's labor force needs from Jordan and in the MENA Region. The lessons learned from the process of developing this partnership may be applied to other potential and emerging partnerships in other sectors. The paper draws on principles and best Education and Training Public/Private Partnerships Improved Workforce Demand-Driven Skills in Selected Sectors USAID Jordan Economic Development Program 5 practices of Public-Private Partnerships (PPPs), includes specific references to recent publications, and includes step-by-step procedures needed to form effective partnerships.
Community Engaged/Serving
No, this is not community-engaged.
Citation Information
Hussien Al-Wedyan, Terry S. Lane, David Lowther and Gwen El Sawi. "Public-Private Partnerships: Lessons Learned from a Partnership: Consolidated Contractors Company and the Morganti Group Inc. (Ccc/Morganti), Al-Balqa' Applied University (Bau)/Al-Huson University College (Ahuc) and the Usaid Jordan Economic Development Program" (2009)
Available at: http://works.bepress.com/terry_lane/4/