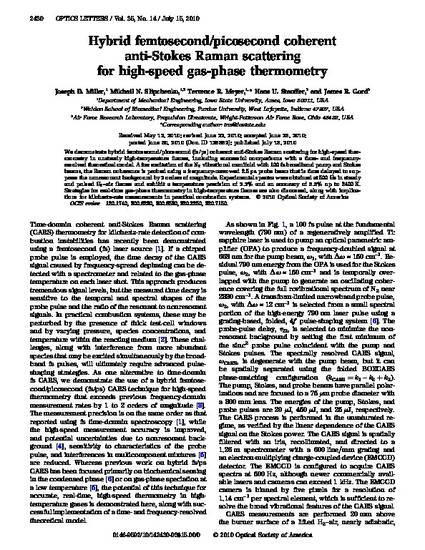 Article
Hybrid femtosecond/picosecond coherent anti-Stokes Raman scattering for high-speed gas-phase thermometry
Optics Letters
Publication Version
Published Version
Publication Date
7-1-2010
Abstract
We demonstrate hybrid femtosecond/picosecond (fs/ps) coherent anti-Stokes Raman scattering for high-speed thermometry in unsteady high-temperature flames, including successful comparisons with a time- and frequencyresolved theoretical model. After excitation of the N2 vibrational manifold with 100 fs broadband pump and Stokes beams, the Raman coherence is probed using a frequency-narrowed 2:5 ps probe beam that is time delayed to suppress the nonresonant background by 2 orders of magnitude. Experimental spectra were obtained at 500 Hz in steady and pulsed H2–air flames and exhibit a temperature precision of 2.2% and an accuracy of 3.3% up to 2400 K. Strategies for real-time gas-phase thermometry in high-temperature flames are also discussed, along with implications for kilohertz-rate measurements in practical combustion systems.
Rights
This paper was published in Optics Letters and is made available as an electronic reprint with the permission of OSA. The paper can be found at the following URL on the OSA website: https://www.osapublishing.org/ol/abstract.cfm?uri=ol-35-14-2430. Systematic or multiple reproduction or distribution ot multiple locations via electronic or other means is prohibited and is subject to penalties under law.
Copyright Owner
Optical Society of America
File Format
application/pdf
Citation Information
Joseph D. Miller, Mikhail N. Slipchenko, Terrence R. Meyer, Hans U. Stauffer, et al.. "Hybrid femtosecond/picosecond coherent anti-Stokes Raman scattering for high-speed gas-phase thermometry"
Optics Letters
Vol. 35 Iss. 14 (2010) p. 2430 - 2432
Available at: http://works.bepress.com/terrence_meyer/36/