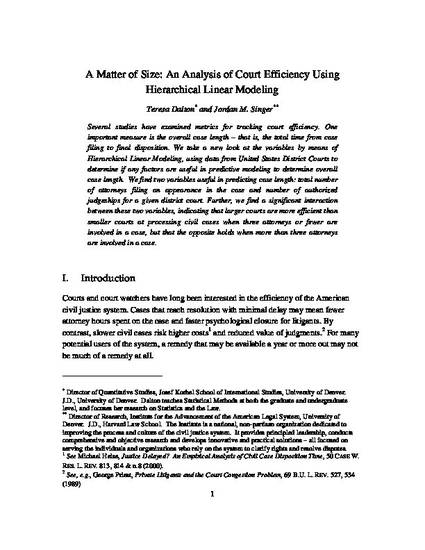 Unpublished Paper
A Matter of Size: An Analysis of Court Efficiency Using Hierarchical Linear Modeling
ExpressO (2009)
Abstract
Several studies have examined metrics for tracking court efficiency. One important measure is the overall case length – that is, the total time from case filing to final disposition. We take a new look at the variables by means of Hierarchical Linear Modeling, using data from United States District Courts to determine if any factors are useful in predictive modeling to determine overall case length. We find two variables useful in predicting case length: total number of attorneys filing an appearance in the case and number of authorized judgeships for a given district court. Further, we find a significant interaction between these two variables, indicating that larger courts are more efficient than smaller courts at processing civil cases when three attorneys or fewer are involved in a case, but that the opposite holds when more than three attorneys are involved in a case.
Publication Date
March 24, 2009
Citation Information
Teresa A Dalton. "A Matter of Size: An Analysis of Court Efficiency Using Hierarchical Linear Modeling"
ExpressO
(2009)
Available at: http://works.bepress.com/teresa_dalton/1/