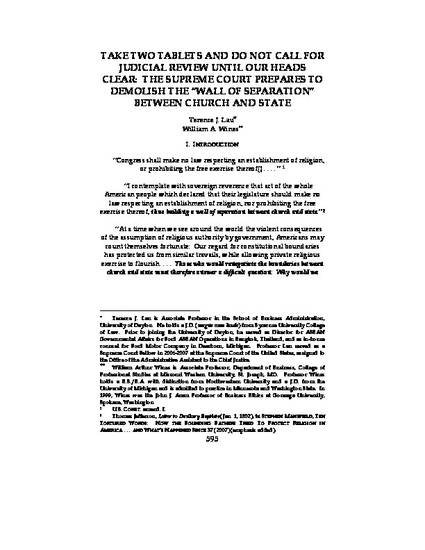 Article
Take Two Tablets and Do Not Call for Judicial Review Until Our Heads Clear: The Supreme Court Prepares to Demolish the 'Wall of Separation' Between Church and State
Valparaiso University Law Review
Publication Date
1-1-2009
Abstract
In this article, we examine the issues that bring First Amendment jurisprudence to the grant of certiorari in Pleasant Grove v. Summum, scheduled for oral argument in the Supreme Court of the United States in November. We examine the historical basis for America's religious heritage, the historical judicial treatment of the religious clauses, and the erosion of the wall of separation between church and state. We examine the Ten Commandments, finding inherent discrimination present in modern-day attempts to advance a particular version of the Ten Commandments as secular. By drawing upon Rousseau's civic religion, we suggest alternative routes for the Court to pursue in similar cases in the future, including a resolution on the vexing questions posed by Summum and the monument in Pleasant Grove. We argue that in light of America's increasing religious diversity and our rising religious intolerance, the Supreme Court should set aside an article or two of conservative ideology in order to better serve the long-term interests of an increasingly diverse American people.
Document Version
Published Version
Copyright
Copyright © 2009, Valparaiso University
Publisher
Valparaiso University
Citation Information
Terence Lau and William Wines. "Take Two Tablets and Do Not Call for Judicial Review Until Our Heads Clear: The Supreme Court Prepares to Demolish the 'Wall of Separation' Between Church and State"
Valparaiso University Law Review
Vol. 43 Iss. 2 (2009)
Available at: http://works.bepress.com/terence_lau/22/