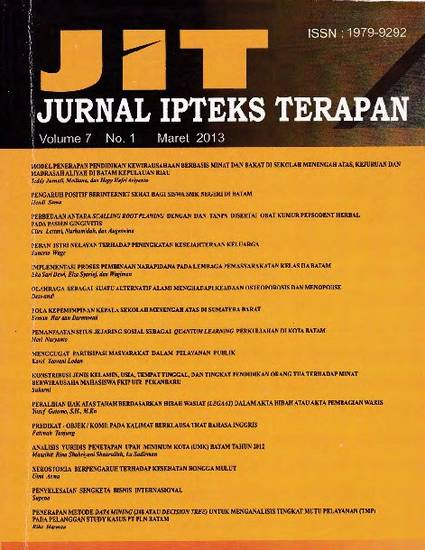 Article
Model Penerapan Pendidikan Kewirausahaan Berbasis Minat dan Bakat di Sekolah Menengah Atas, Kejuruan dan Madrasah Aliyah di Batam, Kepulauan Riau
Jurnal Ipteks Terapan. Kopertis Wilayah X (2013)
Abstract
It is undeniable that the needs of improvement in the process of implementing entrepreneurship education, especially in the world of education, require many efforts. Therefore, in order to strengthen this process, many subjective debates respond to entrepreneurship education policies, such as providing subsidies to fund business or the provision of rolling which are free of charge, and a inadequate implementation of human resources empowerment that support the integration of the values of enterpreneurship in the education curriculum. In spite of this fact, enterpreneurship education remains as one of the major components in complementary produce of graduates independently and in accordance with the competence or interest in their talents. The research was specifically conducted (1) to indentify the pattern of implementation of enterpreneurship education in higgh schools, vocationals and Madrasah Aliyah in Batam City. (2) to indentify the problems that often arise in tha application of enterpreneurship education. (3) to formulate an ideal application model of enterpreneurship education in secondary schools in Batam city. This research applies content analysis as a method of data analysis.
Keywords
enterpreneurship,
high school,
Madrasah Aliyah
Publication Date
March 1, 2013
Citation Information
Teddy Jurnali. "Model Penerapan Pendidikan Kewirausahaan Berbasis Minat dan Bakat di Sekolah Menengah Atas, Kejuruan dan Madrasah Aliyah di Batam, Kepulauan Riau"
Jurnal Ipteks Terapan. Kopertis Wilayah X
Vol. 7 Iss. 1 (2013) p. 1 - 18 ISSN: 1979-9292
Available at: http://works.bepress.com/teddy-jurnali/8/