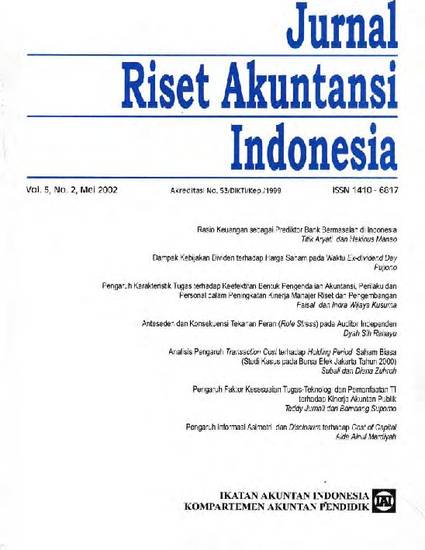 Article
Pengaruh Faktor Kesesuaian Tugas-Teknologi dan Pemanfaatan TI terhadap Kinerja Akuntan Publik
Jurnal Riset Akuntansi Indonesia (2002)
Abstract
This study has a primary objective to empirically test the linkage between information technology and individual performance with the Technology-to-Performance Chain (TPC) as the research model. The model has detailed picture of combination of theories focusing on utilization and task system fit, developed by Goodhue and Thompson (1995). TPC assert that for an information technology to have a positive impact on individual performance, the technology (1) must be utililized and (2) must be a good fit with the tasks it supports. Research data gathered from 171 auditors of the 'big five' CPA firms of Indonesia. This study examines the level of task-technology fit, utilization and individual performance that perceived by the respondents based on the data analytical of the structural equation modelling.
The results show that a fit between technology and the tasks it supports is associated with higher individual performance. It also indicate that a task system fit is associated with the utilization. The other finding, evemthough, was not empirically supported, is that an utilization has positive impact to the individual performance.
Keywords
Task-technology fit,
Utilization,
Individual performance,
Auditor,
Information systems
Publication Date
May 2, 2002
Citation Information
Teddy Jurnali. "Pengaruh Faktor Kesesuaian Tugas-Teknologi dan Pemanfaatan TI terhadap Kinerja Akuntan Publik"
Jurnal Riset Akuntansi Indonesia
Vol. 5 Iss. 2 (2002) p. 214 - 228 ISSN: 1410-6817
Available at: http://works.bepress.com/teddy-jurnali/5/