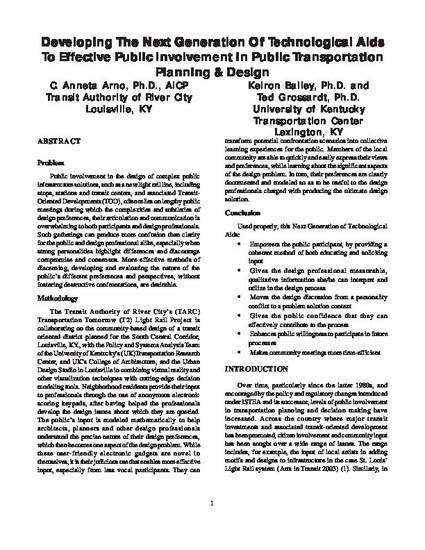 Article
Developing the Next Generation of Technological Aids to Effective Public Involvement in Public Transportation Planning & Design
2003 Bus and Paratransit Conference Proceedings
Abstract
Problem
Public involvement in the design of complex public infrastructure solutions, such as a new light rail line, including stops, stations and transit centers, and associated Transit- Oriented Developments (TOD), often relies on lengthy public meetings during which the complexities and subtleties of design preferences, their articulation and communication is overwhelming to both participants and design professionals. Such gatherings can produce more confusion than clarity for the public and design professional alike, especially when strong personalities highlight differences and discourage compromise and consensus. More effective methods of discerning, developing and evaluating the nature of the public's different preferences and perspectives, without fostering destructive confrontations, are desirable.
Methodology
The Transit Authority of River City's (TARC) Transportation Tomorrow (T2) Light Rail Project is collaborating on the community-based design of a transit oriented district planned for the South Central Corridor, Louisville, KY., with the Policy and Systems Analysis Team of the University of Kentucky's (UK)Transportation Research Center, and UK's College of Architecture, and the Urban Design Studio in Louisville in combining virtual reality and other visualization techniques with cutting-edge decision modeling tools. Neighborhood residents provide their input to professionals through the use of anonymous electronic scoring keypads, after having helped the professionals develop the design issues about which they are queried. The public's input is modeled mathematically to help architects, planners and other design professionals understand the precise nature of their design preferences, which then becomes one aspect of the design problem. While these user-friendly electronic gadgets are novel in themselves, it is their judicious use that enables more effective input, especially from less vocal participants. They can transform potential confrontation scenarios into collective learning experiences for the public. Members of the local community are able to quickly and easily express their views and preferences, while learning about the significant aspects of the design problem. In turn, their preferences are clearly documented and modeled so as to be useful to the design professionals charged with producing the ultimate design solution.
Conclusion
Used properly, this Next Generation of Technological Aids:
Empowers the public participant, by providing a coherent method of both educating and soliciting input
Gives the design professional measurable, qualitative information she/he can interpret and utilize in the design process
Moves the design discussion from a personality conflict to a problem solution context
Gives the public confidence that they can effectively contribute to the process
Enhances public willingness to participate in future processes
Makes community meetings more time-efficient
Document Type
Conference Proceeding
Publication Date
5-1-2003
Citation Information
C. Anneta Arno Anneta, Keiron Bailey and Ted H. Grossardt. "Developing the Next Generation of Technological Aids to Effective Public Involvement in Public Transportation Planning & Design"
2003 Bus and Paratransit Conference Proceedings
(2003) p. 1 - 10
Available at: http://works.bepress.com/ted_grossardt/65/