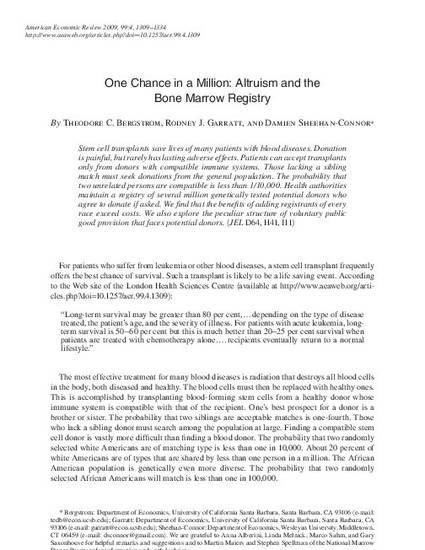 Article
One Chance in a Million: Altruism and the Bone Marrow Registry
American Economic Review (2009)
Abstract
Transplants of donated stem cells save the lives of many patients with blood diseases. Donation is somewhat painful, butrarely has lasting adverse effects. Patients can accept transplants only from donors with compatible immune systems. Those lacking a sibling match must seek donations from the population at large. The probability that two persons of the same race are compatible is less than 1/10,000. Health authorities maintain a registry of several million genetically-tested potential donors who have agreed to donate if asked. We study the peculiar structure of voluntary public good provision represented by the registry, and compare the marginal benefits and marginal costs of expanding the registry.
Keywords
altruism,
voluntary contributions of public goods,
value of statistical life,
benefit-cost analysis,
donations,
bone marrow registry,
genetics
Publication Date
September, 2009
Citation Information
Ted C Bergstrom, Rod Garratt and Damien Sheehan-Connor. "One Chance in a Million: Altruism and the Bone Marrow Registry"
American Economic Review
Vol. 99 Iss. 4 (2009)
Available at: http://works.bepress.com/ted_bergstrom/15/