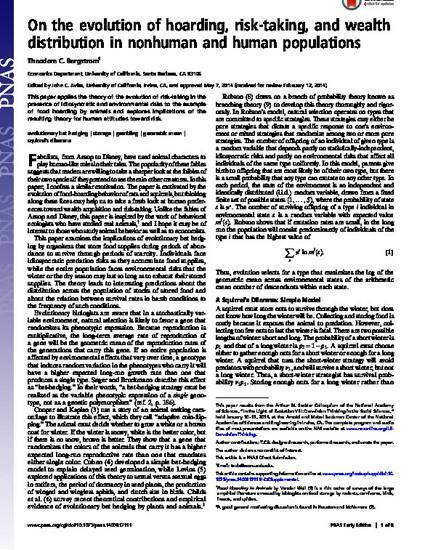 Article
On the evolution of hoarding, risk-taking, and wealth distribution in nonhuman and human populations
Proceedings of the National Academy of Sciences (2014)
Abstract
This paper applies the theory of the evolution of risk-taking in the presence of idiosyncratic and environmental risks to the example of food hoarding by animals and explores implications of the resulting theory for human attitudes toward risk.
Keywords
evolutionary bet hedging | storage | gambling | geometric mean | squirrel's dilemma
Citation Information
Ted C Bergstrom. "On the evolution of hoarding, risk-taking, and wealth distribution in nonhuman and human populations"
Proceedings of the National Academy of Sciences
(2014)
Available at: http://works.bepress.com/ted_bergstrom/123/