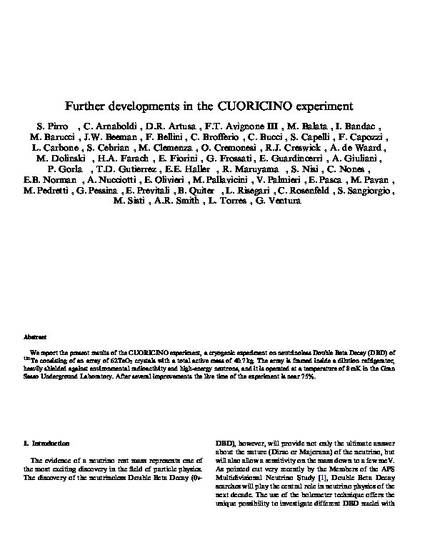 Article
Further developments in the CUORICINO experiment
Nuclear Instruments and Methods in Physics Research A
Publication Date
4-15-2006
Abstract
We report the present results of the CUORICINO experiment, a cryogenic experiment on neutrinoless Double Beta Decay (DBD) of n130Te consisting of an array of 62 TeOn2 crystals with a total active mass of 40.7 kg. The array is framed inside a dilution refrigerator, heavily shielded against environmental radioactivity and high-energy neutrons, and it is operated at a temperature of 8mK in the Gran Sasso Underground Laboratory. After several improvements the live time of the experiment is near 75%.
Citation Information
S. Pirro, C. Arnaboldi, D. R. Artusa, F. T. Avignone III, et al.. "Further developments in the CUORICINO experiment"
Nuclear Instruments and Methods in Physics Research A
Vol. 559 (2006) p. 352 - 354
Available at: http://works.bepress.com/tdgutier/10/