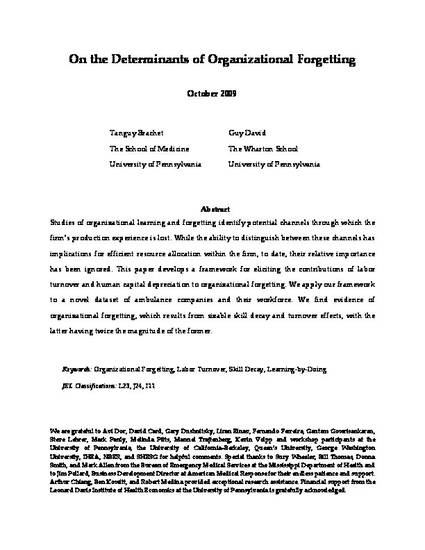 Article
On The Determinants of Organizational Forgetting
American Economic Journal: Microeconomics (2011)
Abstract
Studies of organizational learning and forgetting identify potential channels through which the firm's production experience is lost. While the ability to distinguish between these channels has implications for efficient resource allocation within the firm, to date, their relative importance has been ignored. This paper develops a framework for eliciting the contributions of labor turnover and human capital depreciation to organizational forgetting. We apply our framework to a novel dataset of ambulance companies and their workforce. We find evidence of organizational forgetting, which results from sizable skill decay and turnover effects, with the latter having twice the magnitude of the former.
Keywords
Organizational Forgetting,
Labor Turnover,
Skill Decay,
Learning?by?Doing
Publication Date
August, 2011
Citation Information
David, Guy, and Tanguy Brachet. 2011. "On the Determinants of Organizational Forgetting."
American Economic Journal: Microeconomics
, 3(3): 100–123. DOI:10.1257/mic.3.3.100 http://www.aeaweb.org/articles.php?doi=10.1257/mic.3.3.100