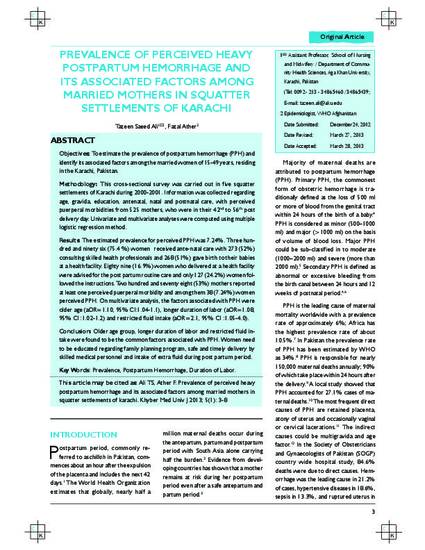 Article
Prevalence of perceived heavy postpartum hemorrhage and its associated factors among married mothers in squatter settlements of Karachi
Khyber Medical University Journal
Publication Date
1-1-2013
Abstract
Objectives; To estimate the prevalence of postpartum hemorrhage (PPH) and identify its associated factors among the married women of 15-49 years, residingin the Karachi, Pakistan. Methodology: This cross-sectional survey was carried out in five squatter settlements of Karachi during 2000-2001. Information was collected regarding age, gravida, education, antenatal, natal and postnatal care, with perceived puerperal morbidities from 525 mothers, who were in their 42nd to 56th post delivery day. Univariate and multivariate analyses were computed using multiple logistic regression method. Results: The estimated prevalence for perceived PPH was 7.24%. Three hundred and ninety six (75.4 %) women received ante-natal care with 273 (52%) consulting skilled health professionals and 268 (51%) gave birth to their babies at a health facility. Eighty nine (16.9%) women who delivered at a health facility were advised for the post partum routine care and only 127 (24.2%) women followed the instructions. Two hundred and seventy eight (53%) mothers reported at least one perceived puerperal morbidity and among them 38 (7.24%) women perceived PPH. On multivariate analysis, the factors associated with PPH were older age (aOR=1.10, 95% CI:1.04-1.1), longer duration of labor (aOR=1.08,95% CI :1.02-1.2) and restricted fluid intake (aOR=2.1, 95% CI :1.05-4.0).Conclusion: Older age group, longer duration of labor and restricted fluid in take were found to be the common factors associated with PPH. Women need to be educated regarding family planning program, safe and timely delivery by skilled medical personnel and intake of extra fluid during post partum period.
Citation Information
Tazeen S Ali and Fazal Ather. "Prevalence of perceived heavy postpartum hemorrhage and its associated factors among married mothers in squatter settlements of Karachi"
Khyber Medical University Journal
Vol. 5 Iss. 1 (2013) p. 3 - 8
Available at: http://works.bepress.com/tazeen_ali/47/