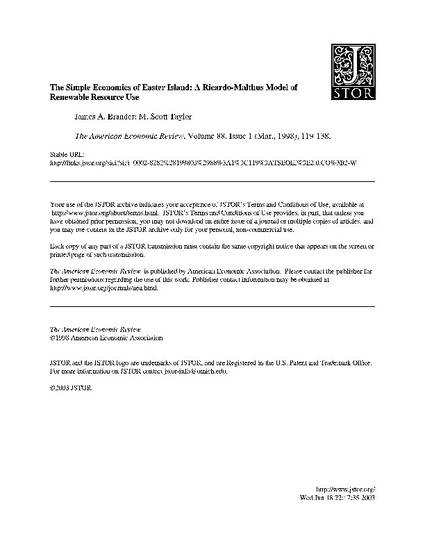 Article
The Simple Economics of Easter Island: A Ricardo-Malthus Model of Renewable Resource Use
The American Economic Review (1998)
Abstract
We present a simple general equilibrium model of renewable resource and population dynamics that may explain the rise and fall of Easter Island's civilization. The model generates a system similar to the Lotka-Volterra predator-prey model. In our formulation man is the predator and the resource base is the prey, leading to the possibility of feast and famine cycles of rising and falling population and resource stocks. Such cycles tend to arise when fertility is high and the resource base grows slowly. We speculate that such cycles may often cause violent conflict and describe other civilizations that may have declined because of population overshooting and endogenous resource degradation.
Publication Date
March, 1998
Citation Information
M. Scott Taylor and James A. Brander. "The Simple Economics of Easter Island: A Ricardo-Malthus Model of Renewable Resource Use"
The American Economic Review
Vol. 88 Iss. 1 (1998)
Available at: http://works.bepress.com/taylor/16/