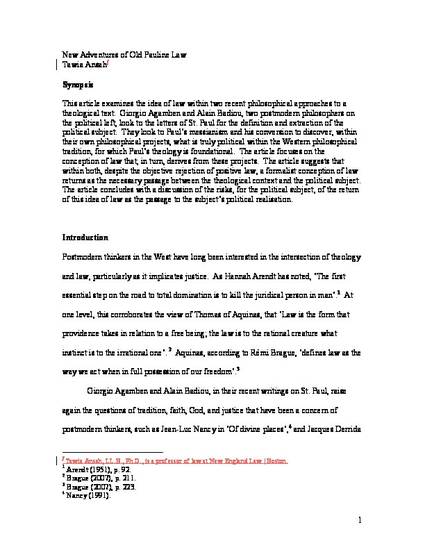 Article
New Adventures of Old Pauline Law
Griffith L. Rev.
Publication Date
1-1-2009
Excerpt
The article suggests that both writers perform something useful for legal theory and progressive thought on the law: through the formal and aesthetic schemas of their own encounters with the Pauline tradition, which in turn replicate Paul's struggle with his own, the writers clarify a recursive gesture within our own relationship to law and our investments in its redemptive capacities. We get to see the limits of the militant progressive impulse in relation to the construction of the subject, and so we can think through the implications – violent, salvific, redemptive, and formal – of our own political and legal projects.
Abstract
This article examines the idea of law within two recent philosophical approaches to a theological text. Giorgio Agamben and Alain Badiou, two postmodern philosophers on the political left, look to the letters of St. Paul for the definition and extraction of the political subject. They look to Paul's messianism and his conversion to discover, within their own philosophical projects, what is truly political within the Western philosophical tradition, for which Paul's theology is unconditional. The article focuses on the conception of law that, in turn, derives from these projects. The article suggests that within both, despite the objective rejection of positive law, a formalist conception of law returns as the necessary passage between the theological context and the political subject. The article concludes with a discussion of the risks, for the political subject, of the return of this idea of law as the passage to the subject's political realization.
Citation Information
Tawia Baidoe Ansah. "New Adventures of Old Pauline Law"
Griffith L. Rev.
Vol. 18 (2009) p. 385
Available at: http://works.bepress.com/tawia-ansah/9/