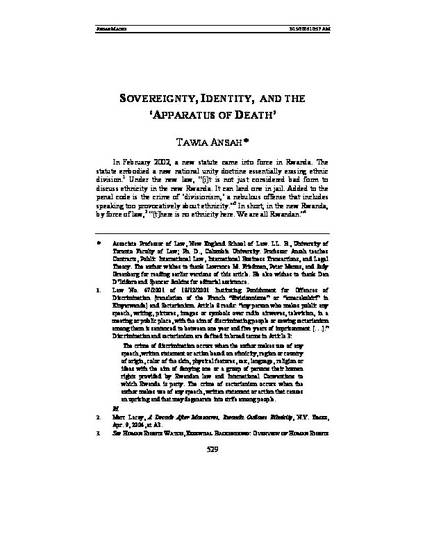 Article
Sovereignty, Identity, and the Apparatus of Death
New Eng. L. Rev.
Publication Date
1-1-2006
Excerpt
Intemational human rights law's claim to universality, at the level of normative formation, has been shaped by conceptions of the self over time. The metaphysical reconfigurations of the self, from the Enlightenment to the present, have marked the human rights narrative in particular ways. This essay will suggest that since World War 11, a conception of the self within a narrative of rights has. been replaced, or at least countermanded, by a conception of sacral evil, with profound implications for the normative claim to universality of the human rights discourse.
Abstract
Ten years after the genocide in Rwanda, the government issued broad new laws outlawing the use of ethnic categories, with a view to uniting all Rwandans under a single Rwandan identity. This self-erasure of ethnic identity is deployed primarily within the borders of the state, to enable reconciliation after the genocide in 1994. Outside the borders, the state deploys ethnic identity as one of the rationales for its cross-border wars (in the Democratic Republic of Congo).
Citation Information
Tawia Baidoe Ansah. "Sovereignty, Identity, and the Apparatus of Death"
New Eng. L. Rev.
Vol. 40 (2006) p. 529
Available at: http://works.bepress.com/tawia-ansah/8/