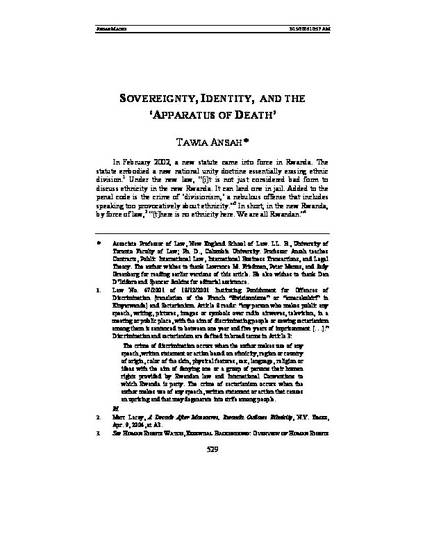 Article
Sovereignty, Identity, and the Apparatus of Death
New Eng. L. Rev.
Publication Date
1-1-2006
Abstract
Ten years after the genocide in Rwanda, the government issued broad new laws outlawing the use of ethnic categories, with a view to uniting all Rwandans under a single Rwandan identity. This self-erasure of ethnic identity is deployed primarily within the borders of the state, to enable reconciliation after the genocide in 1994. Outside the borders, the state deploys ethnic identity as one of the rationales for its cross-border wars (in the Democratic Republic of Congo).
Citation Information
Tawia Baidoe Ansah. "Sovereignty, Identity, and the Apparatus of Death"
New Eng. L. Rev.
Vol. 40 (2006) p. 529
Available at: http://works.bepress.com/tawia-ansah/8/