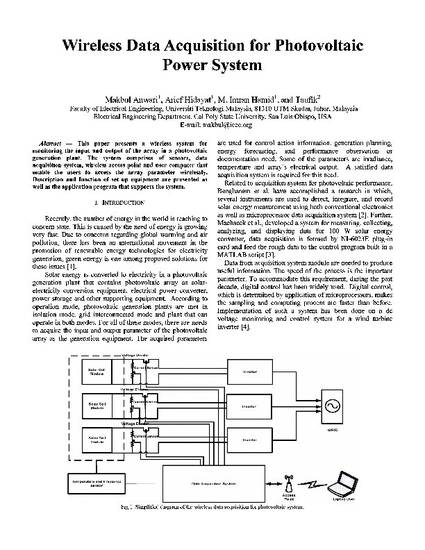 Article
Wireless Data Acquisition for Photovoltaic Power System
Telecommunications Energy Conference, 2009. INTELEC 2009. 31st International
Publication Date
10-18-2009
Abstract
This paper presents a wireless system for monitoring the input and output of the array in a photovoltaic generation plant. The system comprises of sensors, data acquisition system, wireless access point and user computer that enable the users to access the array parameter wirelessly. Description and function of set up equipment are presented as well as the application program that supports the system.
Citation Information
Makbul Anwari, Arief Hidayat, M. Imran Hamid and Taufik. "Wireless Data Acquisition for Photovoltaic Power System"
Telecommunications Energy Conference, 2009. INTELEC 2009. 31st International
(2009) p. 1 - 4
Available at: http://works.bepress.com/taufik/6/