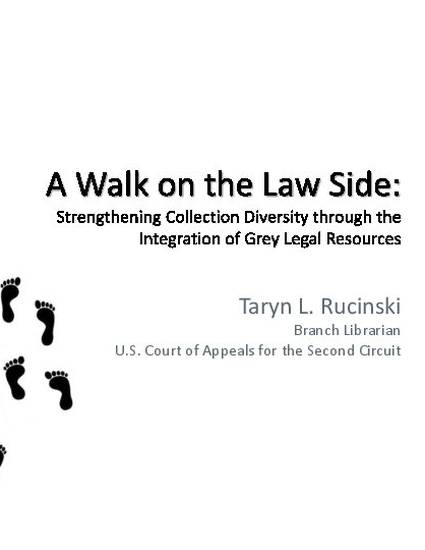 Presentation
Keynote Address: A Walk on the Law Side: Strengthening Collection Diversity through the Integration of Grey Legal Resources
18th International Conference on Grey Literature (2016)
Abstract
In this time of budget shortfalls, limited resources, and collection fatigue it is easy for information professionals to feel isolated, overwhelmed, and even a bit disillusioned. Grey literature specialists are often most susceptible to this as the collections we work with are so ephemeral by their very existence. But, what if we could combat this ennui? What if we could find untapped, high quality grey collections that would complement our existing resources? What if we shift our view, challenge our perspective, and take a walk . . . a walk on the law side?  Working off the newly proposed definition of grey legal literature, this keynote will discuss the various types of grey legal resources that exist and their value to the research community as a whole. By examining the scientific and reports literature produced by legal groups as well as the resources generated directly by the legislative, litigation, and regulatory processes, grey researchers will discover a new path to rich and diverse sources of information that will help them maximize and strengthen their collections. 
Keywords
grey literature,
grey legal literature,
library science,
collection development,
government documents,
legal research,
environmental law
Publication Date
November 28, 2016
Location
New York Academy of Medicine NY, NY
Citation Information
Taryn L. Rucinski. "Keynote Address: A Walk on the Law Side: Strengthening Collection Diversity through the Integration of Grey Legal Resources"
18th International Conference on Grey Literature
(2016)
Available at: http://works.bepress.com/taryn_rucinski/50/