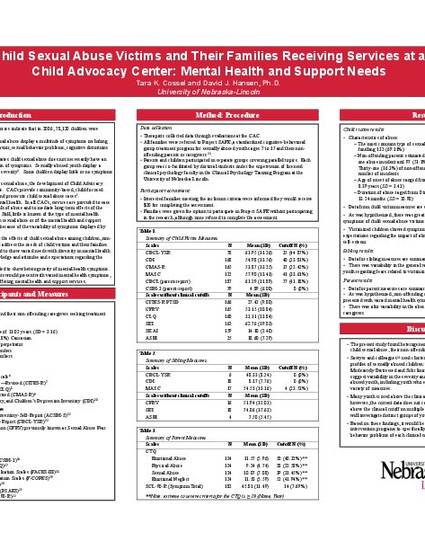 Presentation
Child Sexual Abuse Victims and their Families Receiving Services at a Child Advocacy Center: Mental Health and Support Needs
McNair Research Symposium (2008)
Abstract
The purpose of this study is to document the effects of child sexual abuse among children, siblings and non-offending parents so the needs of child victims and their families can be further addressed. Children are often referred to Child Advocacy Centers (CACs) for mental health and other support needs. Today most sexually abused children receive the same treatment from CACs, but there is variability in the symptoms and needs these children and their family members present with. Recent research has begun to investigate the variability in symptom patterns of sexual abuse victims, finding aspects of the abuse including severity, duration, frequency, and amount of force seem to affect the type of symptoms displayed by child sexual abuse victims.
Through exploratory analyses the present study examined the nature of the presenting needs of child sexual abuse victims and their families. Study participants were child sexual abuse victims and their families seeking treatment at a Midwestern CAC and consisted of three groups: child victims, siblings, and caregivers. Each participant was given a different battery of measures that assessed mental health, efficacy, expectations, knowledge and behaviors based on group membership. As we hypothesized, there was great heterogeneity in the mental health and support needs of the child victims, their siblings, and their parents. Varying expectations, levels of efficacy, and mental health states of child victims, siblings and parents seem to contribute to the need for different types of treatment and support for sexually abused children and their families. Based on these findings, it would be beneficial for CACs to incorporate programs to address the varied mental health and support needs of child sexual abuse victims and their families, as opposed to treating these families as a single cohort with homogenous symptoms.
Keywords
child maltreatment,
child advocacy center,
CAC
Publication Date
August, 2008
Citation Information
Tara K. Cossel and David J. Hansen. "Child Sexual Abuse Victims and their Families Receiving Services at a Child Advocacy Center: Mental Health and Support Needs"
McNair Research Symposium
(2008)
Available at: http://works.bepress.com/tarakc/5/