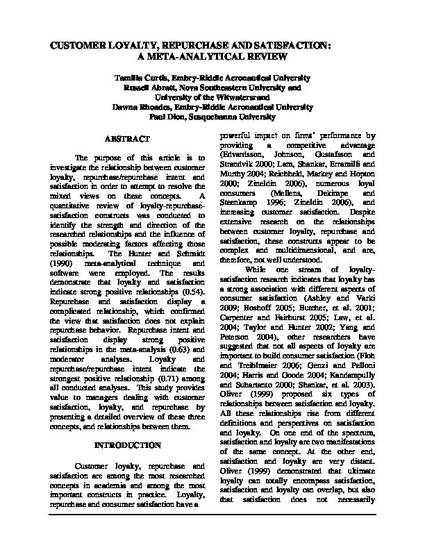 Article
Customer Loyalty, Repurchase and Satisfaction: A Meta-Analytical Review
Journal of Consumer Satisfaction, Dissatisfaction and Complaining Behavior
Publication/Presentation Date
1-1-2011
Abstract/Description
The purpose of this article is to investigate the relationship between customer loyalty, repurchase/repurchase intent and satisfaction in order to attempt to resolve the mixed views on these concepts. A quantitative review of loyalty-repurchase satisfaction constructs was conducted to identify the strength and direction of the researched relationships and the influence of possible moderating factors affecting those relationships. The Hunter and Schmidt (1990) meta-analytical technique and software were employed. The results demonstrate that loyalty and satisfaction indicate strong positive relationships (0.54). Repurchase and satisfaction display a complicated relationship, which confirmed the view that satisfaction does not explain repurchase behavior. Repurchase intent and satisfaction display strong positive relationships in the meta-analysis (0.63) and moderator analyses. Loyalty and repurchase/repurchase intent indicate the strongest positive relationship (0.71) among all conducted analyses. This study provides value to managers dealing with customer satisfaction, loyalty, and repurchase by presenting a detailed overview of these three concepts, and relationships between them.
Citation Information
Tamilla Curtis, Russell Abratt, Dawna L Rhoades and Paul Dion. "Customer Loyalty, Repurchase and Satisfaction: A Meta-Analytical Review"
Journal of Consumer Satisfaction, Dissatisfaction and Complaining Behavior
Vol. 24 (2011) p. 1 - 26
Available at: http://works.bepress.com/tamilla_curtis/9/