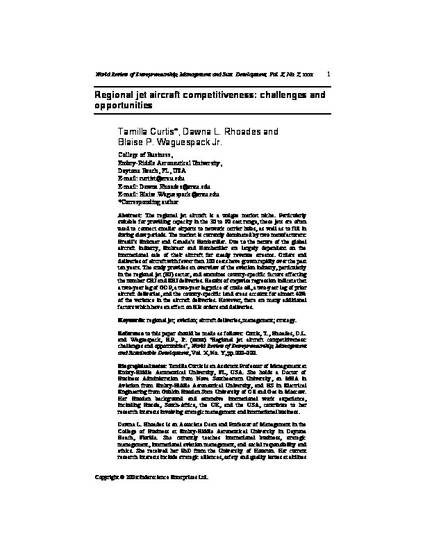 Article
Regional Jet Aircraft Competitiveness: Challenges and Opportunities
World Review of Entrepreneurship, Management and Sustainable Development
Publication/Presentation Date
1-1-2013
Abstract/Description
The regional jet aircraft is a unique market niche. Particularly suitable for providing capacity in the 30 to 90 seat range, these jets are often used to connect smaller airports to network carrier hubs, as well as to fill in during slow periods. The market is currently dominated by two manufacturers: Brazil's Embraer and Canada's Bombardier. Due to the nature of the global aircraft industry, Embraer and Bombardier are largely dependent on the international sale of their aircraft for steady revenue streams. Orders and deliveries of aircraft with fewer than 100 seats have grown rapidly over the past ten years. The study provides an overview of the aviation industry, particularly in the regional jet (RJ) sector, and examines country-specific factors affecting the number CRJ and ERJ deliveries. Results of stepwise regression indicate that a two-year lag of GDP, a two-year lag price of crude oil, a two-year lag of prior aircraft deliveries, and the country-specific land areas account for almost 40% of the variance in the aircraft deliveries. However, there are many additional factors which have an effect on RJs orders and deliveries.
DOI
https://doi.org/10.1504/WREMSD.2013.054736
Citation Information
Tamilla Curtis, Dawna L Rhoades and Blaise P. Waguespack. "Regional Jet Aircraft Competitiveness: Challenges and Opportunities"
World Review of Entrepreneurship, Management and Sustainable Development
Vol. 9 Iss. 3 (2013) p. 307 - 319
Available at: http://works.bepress.com/tamilla_curtis/5/