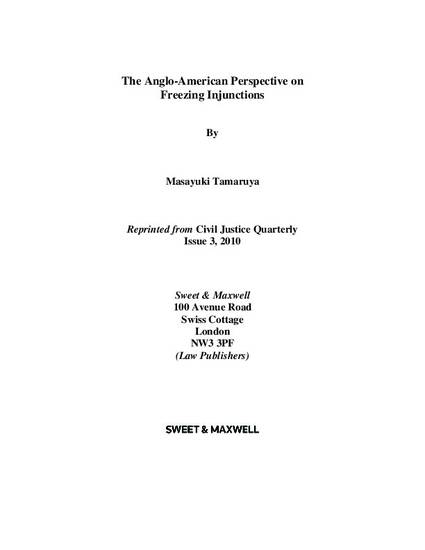 Article
The Anglo-American Perspective on Freezing Injunctions
Civil Justice Quarterly (2010)
Abstract
Freezing injunctions are pre-trial orders to restrain a defendant from dealing with his assets so as to forestall his attempt to frustrate the potential money judgment against him. Freezing injunctions have been adopted in most common law jurisdictions as an effective civil remedy to combat attempts by recalcitrant debtors or fraudsters to frustrate potential money judgments by use of ever faster methods of fund transfer. However, in Grupo Mexicano de Desarrollo SA v Alliance Bond Fund Inc, the US Supreme Court by a 5:4 judgment declared that the US District Court does not have the equitable jurisdiction to grant such form of injunctive relief. Why has the English court been able to develop this extraordinary remedy? And why has the American court been unable to adopt the remedy that has become so popular among many common law countries? This article will adopt a comparative approach to answer these questions.
Keywords
attachment orders,
comparative law,
extraterritoriality,
freezing injunctions,
United States,
England
Citation Information
masayuki tamaruya. "The Anglo-American Perspective on Freezing Injunctions"
Civil Justice Quarterly
Vol. 29 Iss. 3 (2010)
Available at: http://works.bepress.com/tamaruya/1/