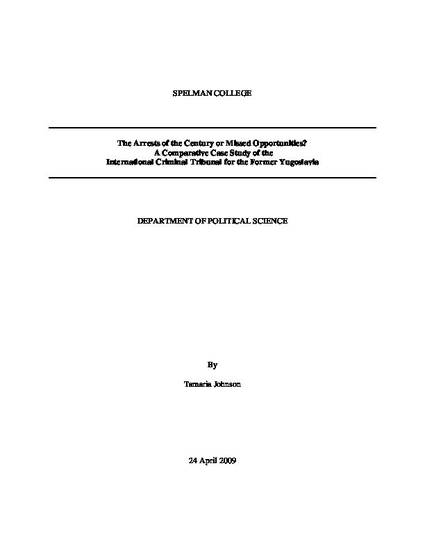 Unpublished Paper
The Arrests of the Century or Missed Opportunities? A Comparative Case Study of the International Criminal Tribunal for the Former Yugoslavia
ExpressO (2009)
Abstract
Conflict resolution and reconciliation are integral to the restoration of civil society by the political integration of formerly fragmented social networks. Yet persistent ethnonational tensions within multinational states, like those experienced in South Easterrn Europe have fostered new hostilities and secessionist movements in the post – Cold War era. This paper examines the International Criminal Tribunal for the Former Yugoslavia (ICTY) by emphasizing the effectiveness of the international court to prosecute political and civilian leaders responsible for committing war crimes, crimes against humanity, and acts of ethnic cleansing and/or genocide during the Balkan wars of the 1990s; its ability to foster reconciliation among political leaders as well as citizens in the Balkan region of South Eastern Europe. The study employs a comparative case study research design to investigate the progression of the ICTY, the cooperation of states with the ICTY, and the future of international criminal courts within the realm of universal jurisdiction. The empirical results suggest the integration of international prosecution, multilateral cooperation, and domestic reform can be a strong deterrent against intrastate conflict to advocate international criminal justice, positive peace, and civil reconciliation. This study will demonstrate that effective judicial intervention conducted by the ICTY in the case of the Slobodan Milosevic trial can be instrumental in eschewing future ethnonational aggression in South Eastern Europe and in other multinational states like Sudan, Georgia, Israel, and Iraq.
Citation Information
Tamaria A Johnson. "The Arrests of the Century or Missed Opportunities? A Comparative Case Study of the International Criminal Tribunal for the Former Yugoslavia"
ExpressO
(2009)
Available at: http://works.bepress.com/tamaria_johnson/1/