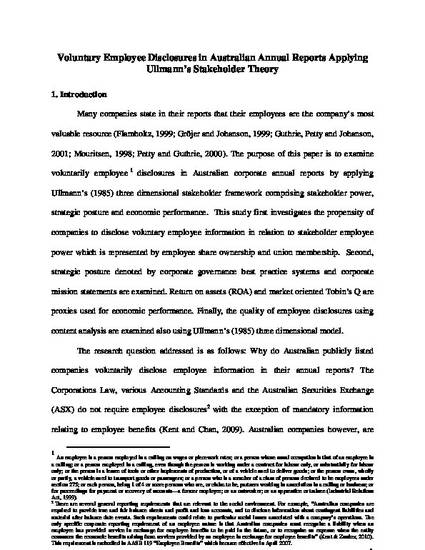 Presentation
Voluntary employee disclosures in Australian annual reports applying Ullmann's stakeholder theory
2011 Accounting and Finance Association of Australia and New Zealand (AFAANZ) conference
Date of this Version
7-3-2011
Document Type
Conference Paper
Abstract
Extract:Many companies state in their reports that their employees are the company's most valuable resource (Flamholtz, 1999; Gröjer and Johanson, 1999; Guthrie, Petty and Johanson, 2001; Mouritsen, 1998; Petty and Guthrie, 2000). The purpose of this paper is to examine voluntarily employee 1 disclosures in Australian corporate annual reports by applying Ullmann's (1985) three dimensional stakeholder framework comprising stakeholder power, strategic posture and economic performance. This study first investigates the propensity of companies to disclose voluntary employee information in relation to stakeholder employee power which is represented by employee share ownership and union membership. Second, strategic posture denoted by corporate governance best practice systems and corporate mission statements are examined. Return on assets (ROA) and market oriented Tobin's Q are proxies used for economic performance. Finally, the quality of employee disclosures using content analysis are examined also using Ullmann's (1985) three dimensional model.
Citation Information
Pamela Kent, Carolyn Windsor and Tamara Zunker. "Voluntary employee disclosures in Australian annual reports applying Ullmann's stakeholder theory"
2011 Accounting and Finance Association of Australia and New Zealand (AFAANZ) conference
(2011) p. 1 - 52
Available at: http://works.bepress.com/tamara_zunker/2/