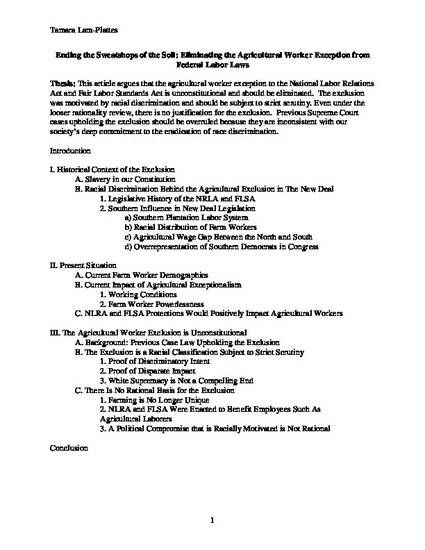 Unpublished Paper
Ending the Sweatshops of the Soil: Eliminating the Agricultural Worker Exception from Federal Labor Laws
ExpressO (2011)
Abstract
This article argues that the agricultural worker exception to the National Labor Relations Act (NLRA) and Fair Labor Standards Act (FLSA) is unconstitutional and should be eliminated. The exclusion was motivated by racial discrimination and should be subject to strict scrutiny. Even under the looser rationality review, there is no justification for the exclusion. Previous Supreme Court cases upholding the exclusion should be overruled because they are inconsistent with our society's deep commitment to the eradication of race discrimination.
Part I of this article provides the historical context surrounding the exclusion of agriculture from the NLRA and FLSA. Southern planters and farmers took advantage of the former slave class by exerting their political power during the New Deal Congresses in order to continue oppressing their emancipated slaves. Part II of this article examines the impact of agricultural exceptionalism on agricultural workers today. Current demographics, working conditions and the problem of farm worker powerlessness are analyzed. Also, the ways in which the termination of this exclusion could positively impact the farm worker population are examined.
Part III argues that the agricultural worker exception to the NLRA and FLSA protections is unconstitutional and should be eliminated by the judiciary. First, under a strict scrutiny analysis, disparate impact and discriminatory intent motivating the exclusion of agricultural workers in the NLRA and FLSA is proven. Additionally, if the courts applied rationality review, the exclusion would still not pass constitutional muster because the supposed considerations that prompted Congress to exclude agricultural workers initially are either irrational or no longer hold true today. Finally, prior case law upholding the exclusion should be overruled, because the underlying reasoning behind those decisions are inconsistent with contemporary values.
Publication Date
April 30, 2011
Citation Information
Tamara Lam-Plattes. "Ending the Sweatshops of the Soil: Eliminating the Agricultural Worker Exception from Federal Labor Laws"
ExpressO
(2011)
Available at: http://works.bepress.com/tamara_lam-plattes/1/