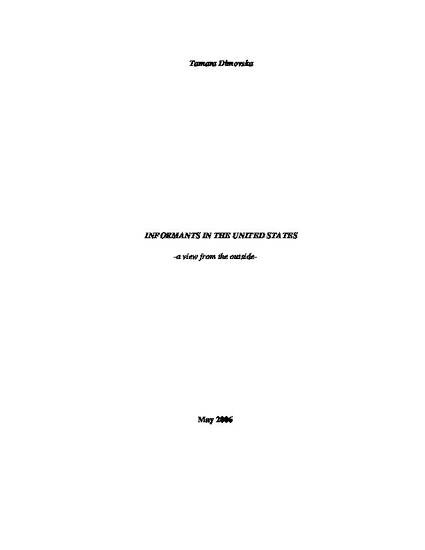 Unpublished Paper
INFORMANTS IN THE US a view from the outside
ExpressO (2008)
Abstract
Men may be without restraints upon their liberty; they may pass to and fro at pleasure: but if their steps are tracked by spies and informers, their words noted down for crimination, their associates watched as conspirators—who shall say that they are free?... This is America is what Americans say when they talk about the peculiarities that differentiate them from the rest of the world. Even though one associates secrecy and temptation with the use of the term informant, the US criminal justice candidly acknowledges the wide use of Informants…This Article shall not be construed as an attempt to change the negative images evoked by the use of the term informant, however, it seeks to limit the reader's prejudices or at least to emphasize the possibility that a large part of the public has acted at least once, as an informant, source of information or a cooperating witness… A good informant is not born; he is rather "developed" by law enforcement agent…But what if the informant is mainly in charge and he handles the FBI. What if murders pile up, unsolved? If working folks are threatened and extorted, with no recourse? If a large-scale cocaine ring, time and again eludes investigators? If elaborate government bugging operation costing taxpayers millions are liked and ruined? This could never happen, right, a deal between the FBI and a top echelon informant going this bad? But it did… Informants are widely used in the United States, but their use is regulated very little…Based on the word of these "career criminals" there are people being sent to prison every day. It seems a very little space is left to rethink the use of informants and deal-making for the sake of fairness and justice.
Keywords
Informants,
US,
view,
outside
Publication Date
Winter January 1, 2008
Citation Information
Tamara Dimovska. "INFORMANTS IN THE US a view from the outside"
ExpressO
(2008)
Available at: http://works.bepress.com/tamara_dimovska/1/